England international Andy Carroll has admitted relief after scoring his first goal for Premier League club West Ham. The ex-Newcastle United striker is on loan to Sam Allardyce's club from Liverpool. Unfortunately, from the team's perspective Carroll's header late in the game was little consolation for a defeat at White Hart Lane. Spurs won the match 3-1, on the back of a brace from Carroll's international team mate Jermain Defoe and Welsh winger Gareth Bale.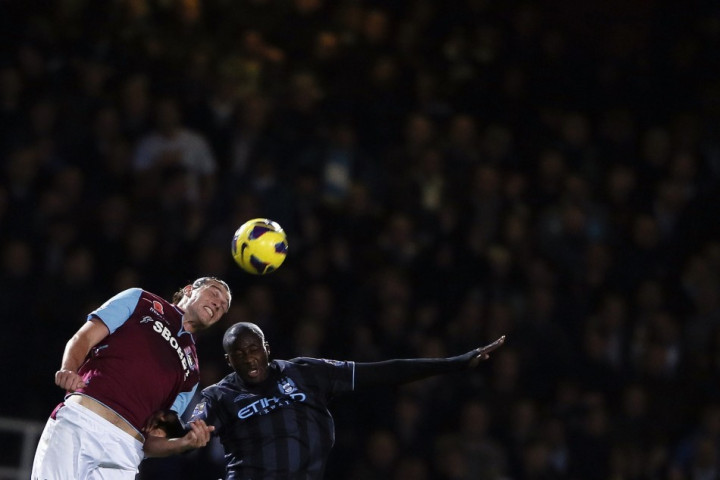 "It was about time, to be honest. I'm just grateful to have got off the mark and hopefully there will be more to come this week. I think I've put myself about and been involved in our goals in previous matches. I think I've been doing well so it was about time one went in," the 23 year old said to the club's Web site, adding, "It was a great ball in by Joey O'Brien and I just had to get up and head it across the keeper. That's what I did and thankfully it went in."
The striker will have more opportunities to make a more significant goal scoring impact on his club's fortunes in coming weeks. The Hammers face a trio of daunting fixtures - they travel to Old Trafford to face Manchester United in a midweek game and follow that with home games against Chelsea and Liverpool. Incidentally, Carroll will not play any part in the game against the Reds, as the terms of his loan agreement forbid him from playing against his parent club.
The match against United should be an interesting one though, after the Red Devils' boss, Sir Alex Ferguson, blasted the Anfield club for overspending on the striker (Liverpool spent £35m to bring Carroll to Merseyside) and potentially damaging his career.
"We have got a tough week, obviously, with Manchester United and then Chelsea and Liverpool coming up. It'll be tough so we just have to put this behind us now and focus on Wednesday. Of course, the big games are what everyone looks forward to, but tonight [defeat to Spurs] was disappointing and we just have to put it behind us now and get ready for the Manchester United game," Carroll concluded, "This game is all gone now so we're going to have to concentrate 100 per cent on Wednesday, which is going to be another tough game."