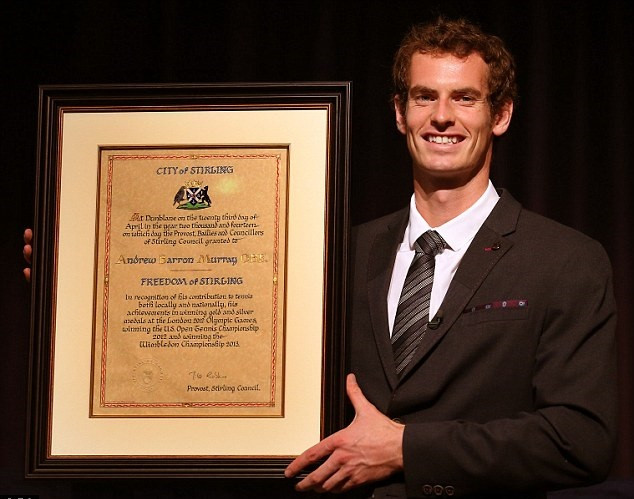 Andy Murray was reduced to tears as he accepted the freedom of the city from his home town of Stirling.
The Wimbledon tennis champion was presented with the honour at his former school, Dunblane High in Murray hall named after him.
Stirling Provost Mike Robbins bestowed the Freedom of the City, saying: "I now formally present Andy with the scroll which confers upon him the freedom of the city of Stirling, here in Dunblane, and, from one Dunblane person to another, I'm delighted."
Fighting back tears as he accepted the award Murray said: "I'm going to keep this very short because there's a good chance I'll get emotional. It feels good to be home. I think everyone knows I'm extremely proud of where I come from. So to get this honour, it means a lot to me so thanks to everyone for coming along and I apologise for this behaviour."
The usually reticent 26-year-old explained why he was so overcome with emotion.
"I don't get the chance to come back that often and I don't get the chance to see my family as much as I would like and I'm very proud of where I come from." he said.
"I don't think anyone would have really expected it - tennis players don't really come from Scotland, so it's a strange story, but proves that anything can happen if you believe and you dream and work hard, then you can achieve whatever you want to, so it's a nice story," he added.
Accompanied by his girlfriend Kim Sears, Murray stopped to hug his father, who was sitting in the crowd.
The tennis champion is the pride of Dunblane, and was honoured for his success at the 2012 Olympics and his first Grand Slam win in the U.S. later that year.
The schools corridors are adorned with pictures of Murray and his brother Jamie celebrating their tennis successes.
Murray said he would like to get involved in sports and tennis projects in the Stirling area when he can devote time to it at the end of his playing career.
He went on to be presented with an honorary doctorate from the University of Stirling in a private ceremony.
The Freedom of Stirling has only been granted on four previous occasions.