World number two Andy Murray said he was "very proud" on Monday (30 November) after he sealed Britain's first Davis Cup title for 79 years with a brilliant 6-3 7-5 6-3 defeat of Belgium's David Goffin on Sunday (29 November). Murray was forced to play some of his best tennis against an opponent who refused to buckle, but he would not be denied as he led his country to a first title since 1936.
"It feels good, it's always difficult to say immediately afterwards but the feelings that I had were so happy, I was very proud and immediately afterwards, which wasn't how I felt at other times when I'd won any big events. It was a lot of relief the other times whereas this time I felt very proud of everyone in the team, proud to represent my country and that we managed to win the biggest team competition there is in this sport. So it was a good day," Murray said from his hotel in Ghent.
Speaking directly after Sunday's match, Murray told reporters he hadn't been as emotional after a winning match before. When asked whether he gets more emotional when he wins games such as the Davis Cup or when he loses important games, he responded: "Well, different emotions, really. I mean you can be happy and excited obviously when you win, and you're obviously down and upset but you can't control that.
"Some matches that really upset you might be second round of a tournament in a smaller event. People don't see that. You can't control how you feel all of the time and you just need to deal with it. But it meant a lot yesterday not just to me but to I think everyone that's been involved in the team and I think for the whole of British tennis it gives everyone a big lift," he said.
Jamie Murray pivotal in the victory
Standing on the sidelines watching the match was his brother Jamie Murray. The brothers played doubles on Saturday (28 November) and earned GB a second point over Belgium duo David Goffin and Steve Darcis. When asked whether the two would continue their doubles partnership, Jamie said they would possibly play together again in the Davis Cup, but that he would play on the regular ATP Tour with Brazilian player Bruno Soares next year. Andy said they hoped to play together in 2016's Olympics.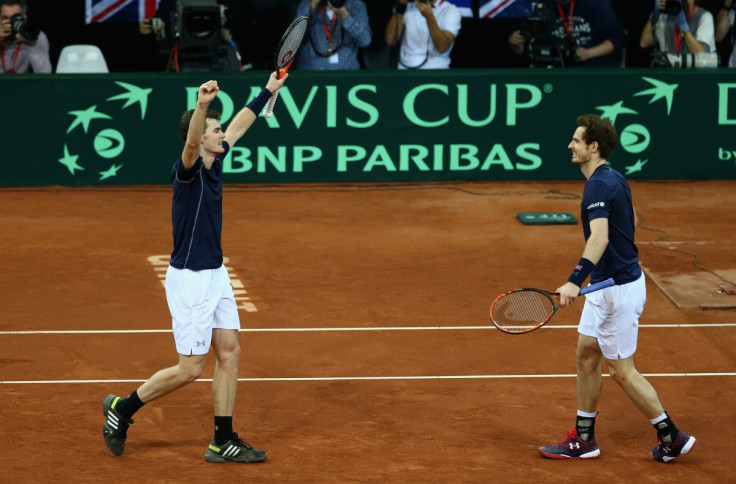 "I mean, although we didn't play so well at the Olympics in London together I think both of us are better players now and more experienced and we have a good chance of going far in that competition. Maybe we'll play a couple more events next year together to get ready for that," Andy said.
The 28-year-old Scot became the first man to win three live rubbers in a Davis Cup final since American Pete Sampras in 1995, taking his record in this year's competition to 11 wins and 0 losses. Andy said it was a coincidence he had won the day before St Andrew's Day.
"A lot of people have been messaging me about that and chatting about it so it gives everyone something to talk about. But it's obviously just a coincidence and yeah, it's been an amazing journey the whole year. Actually the last five years really from where we were to get to this point so, you know, the whole team's played a massive, massive part in getting us here and I was proud to get the chance to finish the title off yesterday," he said.