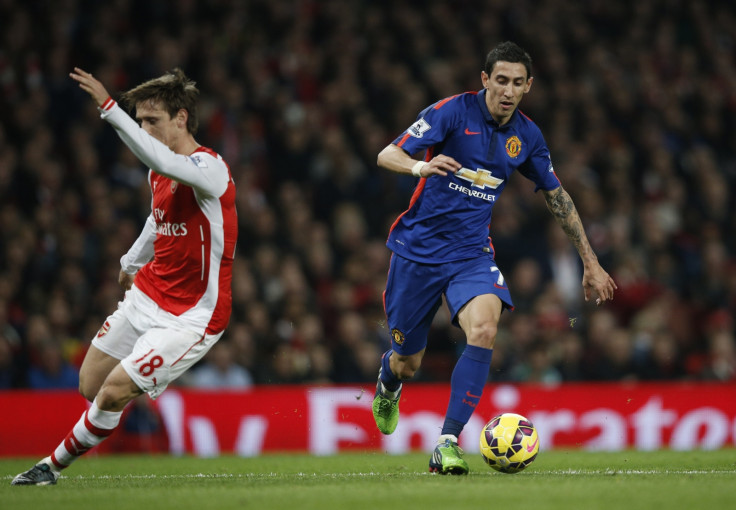 Manchester United midfielder Angel Di Maria insists he is still very happy at Old Trafford after being quizzed on the possibility of reconsidering a move to Paris Saint-Germain.
Di Maria, 26, was named in the FifPro XI - Fifa's team of the year - at the Ballon d'Or ceremony on Monday 12 January after his sensational 2014, which saw him play a central role in Real Madrid's Champions League triumph.
A British record move to Old Trafford would follow but after a vibrant start to life in the Premier League, the Argentina international struggled for fitness towards the end of last year.
Following Monday's ceremony, which saw his former Real Madrid teammate Cristiano Ronaldo crowned the best player on the planet for a third time, Di Maria insisted he had no regrets over his move to Manchester but did leave the door open for a possible move to France in the future.
"Moving one day to Ligue 1? I do not know. I am very much in Manchester now. I am very happy, the people have welcomed me very well. But we do not know what may happen one day," Di Maria was quoted as saying by French outlet Le Sport 10.
PSG were considered favourites to sign Di Maria last summer when it became clear his days at the Santiago Bernabeu were numbered.
But after exorbitant spending throughout 2012 and 2013, followed by the arrival of David Luiz at the club for €50m (£39m), the Ligue 1 champions found themselves restricted by Uefa's Financial Fair Play regulations, giving United a clear path to sign the Argentine for a club record fee of £59.7m.
Di Maria, who marked his return from injury with a goal against Yeovil Town in the FA Cup on 4 January, was the sole Premier League representative in Fifa's team of the year.