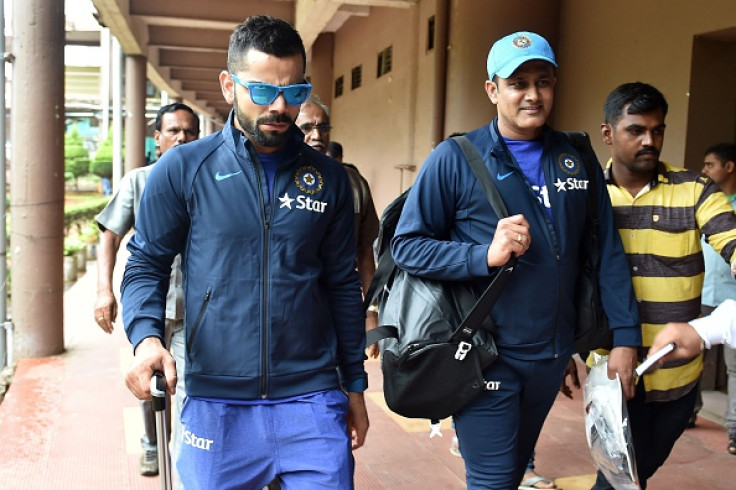 Anil Kumble has opted against a contract extension and has stepped down as India coach ahead of the One Day International (ODI) series against West Indies.
The Cricket Advisory Committee (CAC) had offered Kumble a contract extension after his contract expired on Sunday (18 June), however, he decided to quit on Tuesday (20 June) instead due to his "untenable relationship" with India captain Virat Kohli.
The Board of Control for Cricket in India (BCCI) had previously invited applications for the role due to Kumble's contract expiring after the Champions Trophy, with the 46-year-old being an automatic entry in the application process.
However, with reports that Kohli was having reservations about Kumble's style of coaching, it seemed highly unlikely that he would remain as the team's coach following the 50-over tournament.
"We wish to place on record our sincere appreciation for the immense contribution by Anil Kumble to the team which enabled India to attain the No.1 Test position," BCCI secretary Amitabh Choudhary said, as quoted on CricBuzz.
"Indian cricket needs his continued contribution in various capacities and wishes him all the best in his future endeavour."
Kumble later tweeted a letter which explained the reasons behind his decision and how his partnership with Kohli became untenable.
"I was informed for the first time yesterday by the BCCI that the Captain had reservations with my 'style' and about my continuing as head coach. I was surprised since I had always respected the role boundaries between Captain and Coach."
"Though the BCCI attempted to resolve the misunderstanding between the Captain and me, it was apparent that the partnership was untenable, and I therefore believe it is best for me to move on."
"Professionalism, discipline, commitment, honesty, commitment, honesty, complementary skills and diverse views are the key traits I bring to the table. These need to be valued for the partnership to be effective. I see the Coach's role akin to 'holding a mirror' to drive self-improvement in the team's interest.
"In light of these 'reservations', I believe it is best I hand over this responsibility to whomever the CAC and BCCI deem fit."
Kumble was appointed as the head coach in June 2016 in a stint that saw him lead his side to 10 wins in 13 home Test matches as India climbed to the top of the Test rankings.
However, he was not able to leave on a winning note, suffering an 180-run defeat to rivals Pakistan in the final of the Champions Trophy.