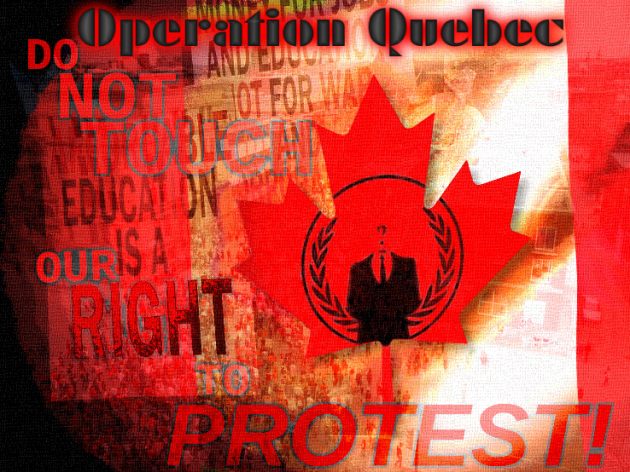 Anonymous has urged racergoers to boycott the upcoming Formula One Grand Prix in Montreal, Quebec, and threatened to take down the Formula One websites to protest against a bill that restricts human rights in the Canadian province.
The hactivists had staged an earlier attack on the Formula One website out of solidarity with Bahraini protesters, who vented their fury over the decision to stage the Grand Prix in Manama while the government continues to crackdown on opposition groups.
The group now has Formula One boss Bernie Ecclestone in its sights and has declared war over the decision to proceed with the Montreal Grand Prix after the recent passage of a bill in Quebec that violates basic human rights.
Bill 78 restricts freedom of assembly, protest, or picketing on or near university grounds without prior police consent. It also places restrictions on university employees' right to strike
Passage of the bill on 18 May was followed by major weekend protests in Montreal, where they have continued daily for over a month.
Over 100,000 people marched in the city on 22 May, marking the 100th day of student protests, which have been stepped up since the bill was passed.
Several protesters wore masks, despite Montreal's recent bylaw criminalising their use in protests.
"It seems that Bernie Ecclestone has not learned anything from his experience in Bahrain," a statement by Anonymous said. "In this case, he now intends to run his race in Montreal, which just recently passed 'Special Law 78' - universally condemned by human rights watchers around the world as tyrannical, draconian - and leaving Quebec in clear violation of its basic human rights obligations."
The collective has announced that it will take all F1 websites offline on 7 June, dump the servers and databases and "wreck anything else F1 related we can find on the internet".
The hacktivists also called on all F1 fans to boycott the Grand Prix in Montreal and not to purchase any tickets online.
"We would like to remind anyone considering attending this abominable race, that last time Anonymous found all the spectators' personal data, including credit card numbers - un-encrypted on F1 servers," the statement said. "And we dumped this information on to the World Wide Web.
"So, we highly suggest that you join the boycott of the F1 in Montreal and we certainly recommend that you NOT purchase any tickets or F1 merchandise online. You have been warned."
Ahead of the race in Bahrain, Anonymous staged a DDoS attack against the official website of Formula One and posted a statement condemning the regime of King Hamad bin al-Khalifa.
Protesters in Bahrain are angry over the lack of international response to what they describe as a continued government crackdown on activists, professionals and opposition members.
Following weeks of unrest, they called for the event to be cancelled, as it was last year.
The Federation Internationale de l'Automobile (FIA), the governing body of world motorsport, decided to go ahead with the event in Montreal this year, even though tensions between the security forces and protesters have escalated in recent days, with fears that the violence is set to increase.
For further news on Anonymous's recent activities, check out the IBTimes UK Cyber Warfare section.