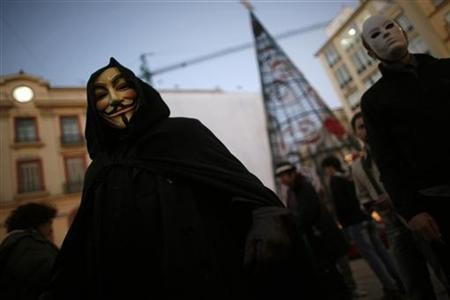 Breaking from its recent slew of hacks and ongoing support for the Occupy series of protests, the Anonymous collective has put out a call to arms asking London residents to re-enact the climactic finale of Alan Moore's "V for Vendetta."
Named the Night of a Thousand Masks, the call to arms was originally put out via a Facebook event created by people calling themselves Robert Proverbz Pembroke, Danny TabaNacle Hardwick and Ed Greens.
The event calls for protesters to joint together Friday night between 9 and 11 wearing the Guy Fawkes mask commonly associated with the Anonymous collective.
Since the event page went live the Anonymous collective has added its support publicising a recruitment video for the protest march. Using a speech from Charlie Chaplin's "The Great Dictator," the video appeared on the collective's AnonOps web site.
The event is set to mirror the end of Alan Moore's famous "V for Vendetta" comic book, which saw all of London march on Parliament to protest the corrupt, fascist government ruling it. The new Anonymous sponsored Night of a Thousand Masks seeks to replicate the scene, but replacing Parliament with St. Paul's.
The event would see a temporary boost in the number of Occupy protesters already camped outside the cathedral. Still continuing, the Occupy London protest began in mid-October when a host of protesters descended on St. Paul's, later laying camp after police blocked their path to their intended camp site.
As with the Occupy protests, the exact motivation for the new Night of a Thousand Masks protest remains vague past a general dislike for the current government and world system.
Despite the vague motivation and lack of clear directions, at the time this article was written, the march had received significant support on its Facebook page with close to 800 people confirming their participation.