Anonymous Hacks Mexican Websites ahead of Pope's Visit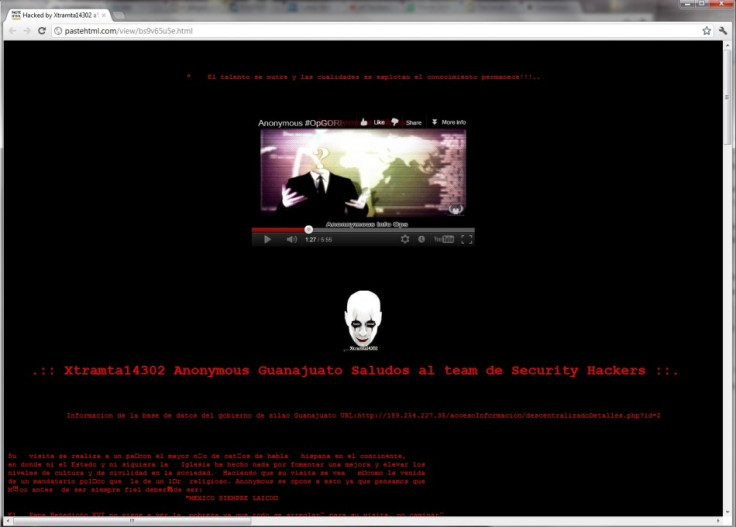 The Mexican branch of the Anonymous collective has targeted two websites dedicated to Pope Benedict XVI's visit to Mexico and has accused the Vatican of using the visit to shore up the conservative National Action Party (PAN), one of Mexico's ruling parties.
The sites detailed the pope's planned activities in the north-central state of Guanajuato, which is governed by PAN's Juan Manuel Oliva.
Guanajuato is the heart of Catholicism in Mexico, with 90 percent of its population practising Catholics.
Anonymous Mexico said in a video that the money spent on the papal visit would be better spent on social services. The visit had been timed to boost support for the NAP ahead of June's presidential election, said the video.
The pope's "visit comes precisely at the start of the electoral campaigns," said the faceless Anonymous figure in the video. "The PAN will take this as a political weapon to win the votes of millions of Catholics in Mexico."
A spokesman for the Mexican Episcopal Conference told the AP news agency that its web page on the papal visit was blocked by "a cyber-attack".
"We have been aware of the threat that has been making the rounds on social networks, that was brought to fruition today," Samuel Najera said. "This is part of a dynamic of acts of intolerance towards certain groups."
Anonymous Mexico made headlines last year with OpCartel, a cyber-operation that targeted drug cartels in response to the alleged kidnapping of one of its members by a criminal group near Veracruz stadium, in Mexico City.
The operation, which initially aimed to take down the cartel, was later called off after the blogger was released and a victory was claimed over Los Zetas, one of the most violent cartels in Mexico.
The hacking group then shifted its focus from the cartel to the Mexican government, calling on the wider Anonymous community to attack government agencies.
© Copyright IBTimes 2023. All rights reserved.