Anthony Joshua ready to retire veteran Kevin Johnson as American boxer steps up mind games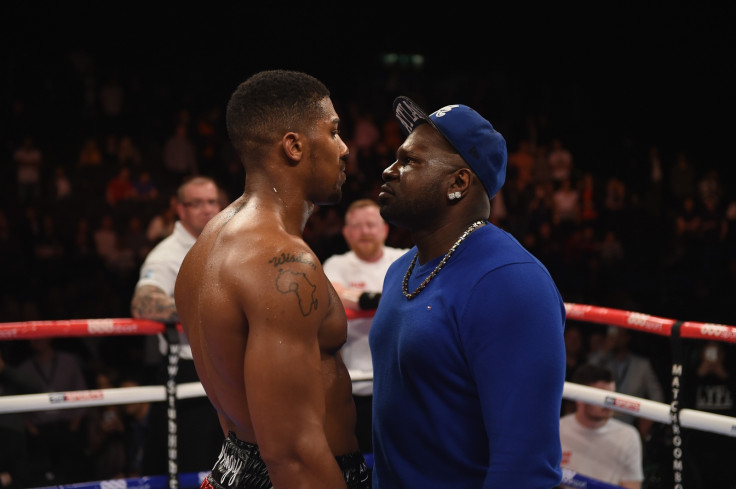 Anthony Joshua has warned Kevin Johnson there is nothing to stop him extending his flawless run in the heavyweight division, something that may come at the expense of the veteran American's career at the O2 Arena on Saturday (30 May).
Joshua, 25, has steamrolled his way through 12 opponents since turning professional in 2013 with none of his fights lasting more than three rounds.
In Johnson, however, he faces his most experienced opponent yet, a man who has gone the distance with Vitali Klitschko in a career that has spanned 18 years.
And while the 35-year-old American anticipates what he believes will be the most entertaining heavyweight showdown in 13 years, it is very much business as usual for Joshua, who says he is better equipped for the biggest challenge of his career than he was six months ago, when his showdown with Johnson was initially shelved after Joshua suffered a back injury.
"Pulling out six months ago – it made me realise what little weaknesses I had in my body, which allowed me to strengthen those up, and I'm feeling really good," Joshua said. "It gave him (Johnson) extra time to train and as he said he hasn't taken his career too seriously, but that has got nothing to do with me.
"Kev can have his hands up, down to the side, it's whatever suits him. I've never gone across and just steamed into my opponent, never having an interest in what he is throwing back. Boxing is a science. Obviously I'll gauge Kevin, but I'll just do my thing. When we are in the ring that talk is cheap, whether it's 10 rounds or it's stopped early."
Johnson was in an animated mood as he addressed the crowd at Wednesday's press conference and was quick to stress how he is now, for the first time in his 18-year career, now fighting at a level he believes to be at "100%". Having labelled Joshua a product of a "media-hype job" earlier in the week, he further attempted to ruffle Joshua's feathers, playing down his growing reputation as a knock-out artist.
"Who dictates power? What do you look at to say this guy is a knock-out artist? To me, he has no power. Why do you say he has power, because of the people he fought and put down? Power is generated from a clever artistic fighter. I don't see that. Half the fight I'm going to fight the boy with my hands down. I don't need my hands up. He won't hurt me. This will be so easy."
Much of the bravado on show came from Johnson's side of the table, and he even offered to fill Joshua's place in Eddie Hearn's and Matchroom's plans for the rest of the year when the Londoner is defeated.
The former world title challenger, however, admitted that if he does lose at the O2 Arena in three days time, then he is prepared to walk away from boxing – although Joshua did suggest he would be open to handing him a rematch in Manchester this summer.
"You wouldn't knock me out. It's not in mind," Joshua said after he was asked by his opponent what he will do if he tastes defeat. "You spoke a lot, you're confident of what of you want to do. You want a rematch? We go on July 18."
© Copyright IBTimes 2023. All rights reserved.