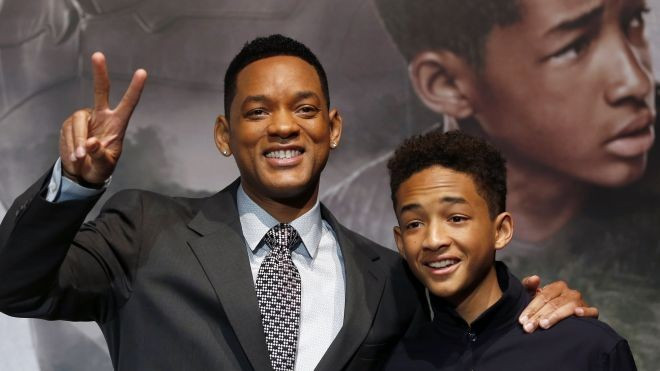 Sci-fi flop After Earth was the big winner at last night's Razzies, picking up three prizes for father and son team Will and Jaden Smith.
Jaden, 15, won the award for worst actor, while his father won the Razzie for supporting actor and the pair picked up worst screen combo.
"It's an old Hollywood tradition that somebody who is a star tries to make members of their family a star, and sometimes it works and sometimes it doesn't," Razzies founder John Wilson told the BBC after the ceremony was over.
The $130 million movie, directed by M Night Shyamalan, grossed just $60 million at the US and Canadian box office.
The worst picture Razzie went to comedy sketch film Movie 43, which had an ensemble cast including Kate Winslet, Hugh Jackman and Halle Berry.
The film's 19 writers won the Razzie for worst screenplay and its 13 directors the worst picture award.
Wilson said: "It's tasteless, it's stupid, it's insulting and it's sexist."
Worst remake or sequel went to The Lone Ranger, starring Johnny Depp. Made for more than $200 million, the film lost $190 million for Disney at the box office.
Tyler Perry was named worst actress for A Madea Christmas, in which she performed in drag, while reality TV star Kim Kardashian was worst supporting actress for Tyler Perry's Temptation.
The Golden Raspberry Awards, or Razzies, were created in 1980 "as the logical antidote to Tinsel Town's annual glut of self-congratulatory awards".
It is held on the eve of the Oscars ceremony, and the "winners" receive a giant golden raspberry, though they rarely collect their prize.
Generally, actors decline this dubious honour, though in 2010 Sandra Bullock collected her worst actress raspberry in person, the day before picking up the best actress award at the Oscars.
This year, Adam Sandler was the bookies' favourite to walk away with a Razzie, but despite his lamentable Grown Ups 2 being nominated for seven golden raspberries, it failed to pick up any. Sandler, an over-achiever at these awards, has earned more than 20 nominations in the course of his career.
The awards are selected by the 800 members of the Golden Raspberry Award Foundation, who can buy membership for voting rights online. Eight of the nine winners are chosen by members, while the ninth, for worst screen combo was chosen by voters on the reviews website RottenTomatoes.com.