Rather than tip-toeing around matters related to Apple, one analyst has laid all his cards on the table and predicted 11 product launches for the company in the next 12 months.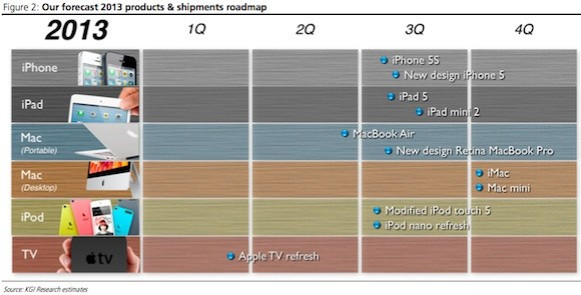 KGI Securities analyst Ming-Chi Kuo has carved a niche for himself in predicting Apple's product releases with considerable precision. In his recent report, the analyst predicts that Apple will launch the majority of its new products in the third quarter (Q3) of this year.
As iPhone Hacks notes, the prediction contradicts earlier expectations that Apple would launch the next generation iPad and iPad mini in March this year.
iPhone
Kuo expects the launch of the next-generation iPhone, called as iPhone 5S and a revamped, low-cost iPhone 5 around June or July this year. According to MacRumours quoting the analyst, iPhone 5S will be identical to the iPhone 5, but will feature a faster 28-nm A7 system-on-chip, a fingerprint sensor, smart flash LED flash and an enhanced camera with f2.0 aperture. The phone is expected to be available in two colours.
Kuo also forecasts that the low-cost, revamped iPhone 5 will be launched within the price bracket of £219 to £281 ($350 to $450), and will be repackaged into a slightly thicker (8.2mm) plastic enclosure than the current iPhone 5 (7.6mm). It will be available in six colours.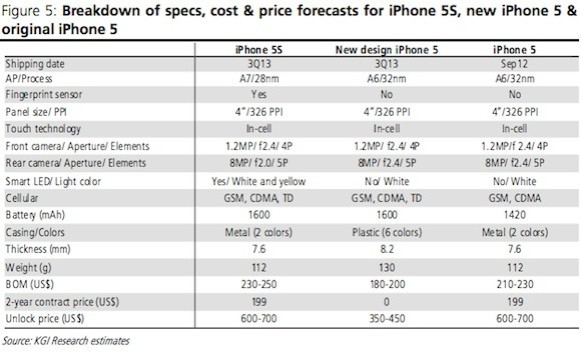 iPad and iPad mini
Kuo expects both the next generation iPad and iPad mini to be launched in Q3 of this year. The addition of Retina display will purportedly be the key change for the iPad mini, while the regular iPad is expected to get slimmer and lighter with thinner side bezels like those on the iPad mini.
iPod youch
Apple is expected to discontinue the fourth-generation iPod touch and instead launch a scaled-down fifth-generation model with 8GB of storage minus the rear camera at £124 ($199).
Apple TV
Kuo's report predicts a minor enhancement to the existing Apple TV as early as March. However, no further details of the Apple TV upgrade have revealed at this point of time.
The analyst also notes that Apple's highly anticipated launch of a branded television in 2013 is unlikely. He cites content issues and lack of television industry experience as the main reasons that will push back Apple's iTV launch until 2014.
MacBook
In line with his last year's predictions, Kuo believes Apple will discontinue non-Retina MacBook Pro line-up this year and drop the prices for its Retina version. A design revamp for the thinner Retina MacBook Pros is also on the cards.
Given their relatively slim profile, Kuo predicts that the MacBook Air line-up is unlikely to receive the Retina display upgrade in 2013. He forecasts that the MacBook Air series will shift to Intel's forthcoming Haswell processor architecture, which may be launched as early as June.
iMac
According to the forecast, iMacs are unlikely to get the Retina display this year. The new iMacs and Mac minis are expected to be powered by Intel's latest Haswell processors, scheduled for a launch in the fourth quarter of 2013.
Despite holding a good track record of predicting Apple's product plans with considerable precision, it remains to be seen which of Kuo's predictions will actually come true this year.