Ad blockers are not new for the app world. But this time, Apple has approved an ad blocker app for iOS that not only blocks ads in the Safari browser but also in native apps and even in Apple News and Facebook.
As first spotted by technology site TechCrunch, the app, called Been Choice, has been released on the App Store last week to allow users to easily block ads in the Safari browser as well as in most of the iOS apps. The app comes in two modes - Block mode and Earn mode. While the former mode provides users the ability to simply block ads in the web browser, the latter offers some "rewards and prizes" by asking users to participate in the provided surveys.
Block mode on Been Choice app provides two options - Block in Safari only and Block in Safari and Apps (using VPN profile). The second option, surprisingly, allows users to block all the ads being served in Apple News app, which the Cupertino giant released at the time of previewing iOS 9 earlier this year.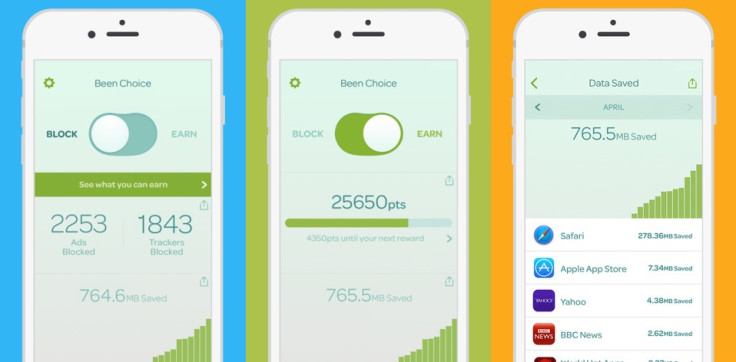 Although Apple had partnered with some of the mainstream content publishers like ESPN, The New York Times and CNN to let them create stories for Apple News app and generate revenue from native ads, the new development certainly puts a question mark on the revenue generation of all those content publishers.
The option to block ads in native apps makes Been Choice app a completely different package from all the existing ad blocking apps. In addition, the app blocks sponsored posts, native ads and pre-roll videos in news apps such as CNN and BBC News, as well as blocks all the ads shown in Facebook app.
Former McKinsey & Co employees Dave Yoon and Sang Shin have created Been Choice app with an aim to offer users a choice between ad blocking and sharing data to earn rewards. The app of course, delivers an ad-free experience to users but at the same time, content publishers and app developers have to compromise from the new offering.
Yoon claims that the app does not store user data on any servers and only headers and body are inspected to deliver the ad-free experience, though some data might be compromised when users switch to Earn mode. "While we inspect headers and the body, no user content is stored, and our filtering is done on the fly," Yoon said. "This approach may be more familiar in its corporate form. For example, companies use deep packet inspection on their managed devices to ensure that sensitive information never leaves internal corporate networks."
Users on iOS prior to iOS 9 were able to block ads using VPN services, but those techniques are no longer helpful on Apple's platform. However, the arrival of Been Choice app, in the form of an ad blocker app, suggests that more similar offerings would soon be available on the App Store to adversely affect the revenue generation of content publishers and app developers. This would also lead many developers to move to other mobile platforms, particularly Android, to generate revenue directly by serving ads in their apps.