Australia has officially thrown its support behind legalising gay marriage, and a wave of celebrities are congratulating the nation via Twitter.
Among the high profile supporters was Apple CEO Tim Cook, who is openly gay himself. But Cook's tweet, although very polite and congratulatory to Australia, left the tech tycoon with some egg on his face. At the end of his message he included a flag emoji, the only problem was, it wasn't the Australian flag...
Cook had put up a New Zealand flag (which is extremely similar and only differentiated by red stars instead of white). He quickly deleted his gaff and replaced it with the correct Australian flag:
But speedy Twitter users still managed to get a screen shot: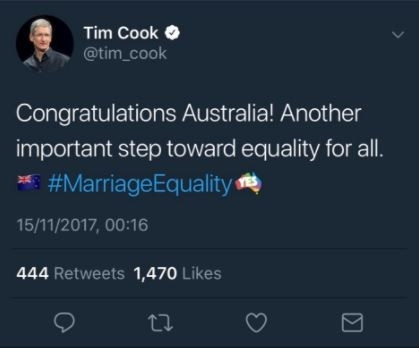 And people were quick to have a laugh about it:
Australia spent $120 million (£69 million) on a postal plebiscite vote to gauge the public's views towards gay marriage. Results returned on Wednesday (15 November) with 61% voting in favour. Australian Prime Minister Malcolm Turnbull has now pledged to make gay marriage legal by Christmas.
Other celebrities chimed in on twitter: