Apple and apps developers for the iOS operating system were probably pleased at the shutdown of popular jailbreak tool Hackulous (aka Installous) last year. However, a report by The Next Web (TNW) suggests there are now two such new problems to combat.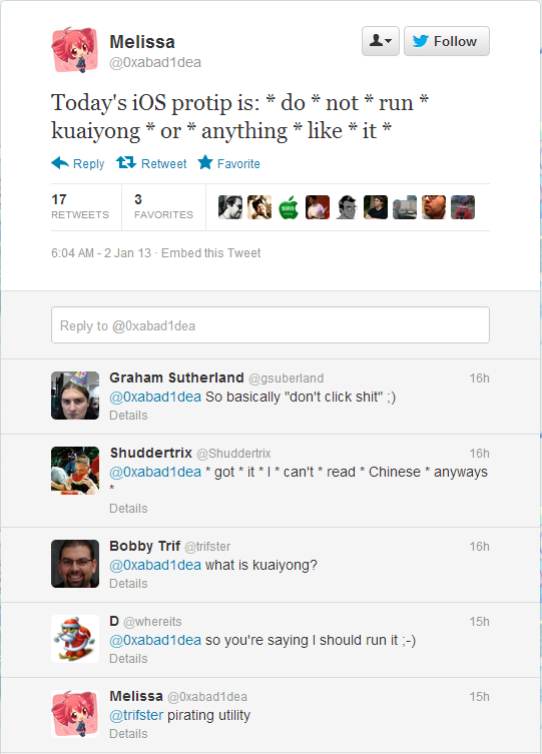 According to TNW, Zeusmos and Kuaiyong have "risen to the forefront" and both are a threat to developers because "they offer simple, one-tap installs of pirated apps and do not require that devices have been jailbroken". The primary concern here is for security of users and developers' data. Both Zeusmos and Kuaiyong now make it easier to steal data from developers.
Zeusmos, for example, offers a free service for jailbroken devices but charges a fee for non-jailbroken iOS products. The service creator insists it is meant only to code sign apps (a trial run) by bypassing Apple's Digital Rights Management (DRM) and not to encourage any form of piracy.
While the exact working of the service is still unclear, Zeusmos is believed to use a developer licensing certificate to install cracked apps, with the DRM removed. It also allows sharing of these apps with other Zeusmos users or through social networking Web sites.
Meanwhile, Kuaiyong (a Chinese Web site) allows iPhone and iPad users to install apps for free.
The service reportedly employs enterprise-licensing for apps and hence allows them to be installed on multiple devices. However, TNW reports that developer logs show identical copies of a single app being installed multiple times, rather than different copies of one app. This is the difference between using a certain number of slots once each and using each slot multiple times.
Security researcher Melissa Eliott has issued a warning on Twitter to caution users against potentially harmful software like Kuaiyong. She tweeted: "Today's iOS protip is: * do * not * run * kuaiyong * or * anything * like * it *."