Apple has updated its App Store on iOS 6 beta that brings significant layout as well as search results upgrades inspired by Chomp. Earlier this year, Apple acquired Chomp, a three-year-old startup, in order to improve search and app discovery.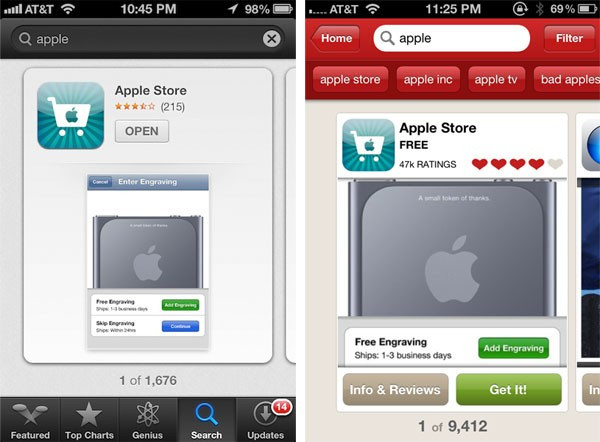 Developers running the upcoming iOS 6 can benefit from the newest App Store that shows up a restructured look based on card or tiles rather than the list view seen in iOS 5, according to Apple Insider.
iPad users will be able to see large tiles which show up the app's name, rating and screen shot. The existing iOS 5's App Store sports an app icon and rating alongside a few lines of text that contains the app name.
Various buttons and drop-down menus have been moved to a different location. The apps are not shown on the same page; instead users will be able to use a toggle button which includes price, category and relevant/release date just below the "iPad Apps" and "iPhone Apps".
The App Store's layout in the iPhone has also been revamped which includes a categories button integrated into search results. Apple has also enabled the Genius search option in iOS 6 beta but Apple Insider reports that the service is yet to be fully functional. Users will be directed to agree to the company's terms and conditions before they are sent back to the "Turn On Genius" page.
"Overall, the look and feel of the new App Store is more of an evolution rather than a revolution, and the new tile system is sure to spark controversy among users accustomed to the traditional list layout. However, the changes are substantial enough to give the store a more put-together appearance worthy of a new OS launch," claims Apple Insider.
Apple launched the iOS 6 beta in June at the WWDC 2012. In August, the company seeded the beta 4 for developers. The iOS 6 is expected to be released in September alongside the company's next-generation iPhone.