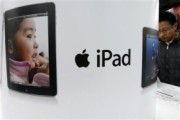 A new report from tech consultancy Good Technology has revealed that despite a consistent increase in Google Android's market share, business consumers still prefer Apple devices and software.
The company reported that for the first time since its launch, the number of Apple's iOS tablet activations outnumber those of android smartphones. The report alleged that Android smartphones currently account for 24 per cent of the market, while Apple's iPad and iPad 2 account for 27.2 per cent.
Further to this, the report indicated that the number of tablets running Android had declined by 3.1 per cent, meaning that the iPad series of tablets now accounts for roughly 95 percent of the world's total tablet activations.
Good Technology also reported an increase in Apple's monopoly hold on the smartphone market. The report alleged that Apple currently accounts for 66 per cent of the market, while Google holds 33 per cent -- presumably meaning that the report didn't include Nokia's Symbian or RIM's Blackberry OS in its findings.
The paper also reported an increase in the number of businesses using the iPad. It showed a particular boom of use in the financial services, which it reported as accounting for 46 per cent of all business activations -- triple the amount of any other industry.
Senior vice president of corporate strategy at Good Technology John Herrema, commented on the report:
"In the second quarter of 2011, the most striking thing is Good's users activated more iPad tablets than Android smartphones and tablets combined.
"While Android may be gaining smartphone market share with consumers, our business users are clearly gravitating to the iPad and doing so in large numbers. This is especially true in the Financial Services sector, which drove nearly half of all Good's iPad activations over the quarter."
The research was carried out during and refers to the period between 1 April and 20 June this year. It was reportedly done by monitoring the number of device activations done "across our [Good Technology's] thousands of corporate and government customers".
Neither Apple or Google have commented on the report's findings.