The rumor round up of the upcoming tablets are heating up as many more tablets are expected to come along anytime of this year.
Even though seven days have passed by since the unveiling of Apple's third-generation iPad, Korea Times received a quote from a Samsung official who has informed them about the arrival of a 7.85in version of the iPad by the end of this year. The identity of the official was not disclosed by the newspaper. The Samsung executive also informed the online paper that the current contract between Samsung and Apple is worth around $9.7bn in parts, however it is expected to grow to about $11bn as Apple secures display panels, flash storage, chips and more.
This rumor cannot be dismissed as Samsung remains the key component supplier for Apple even though patent battles have ensued between them. The latest information about the ongoing patent battle has revealed that Apple has simplified its ITC lawsuit against Samsung by dropping one patent and several claims from two more, as paring down the legal issues is something all courts encourage to make the adjudication process more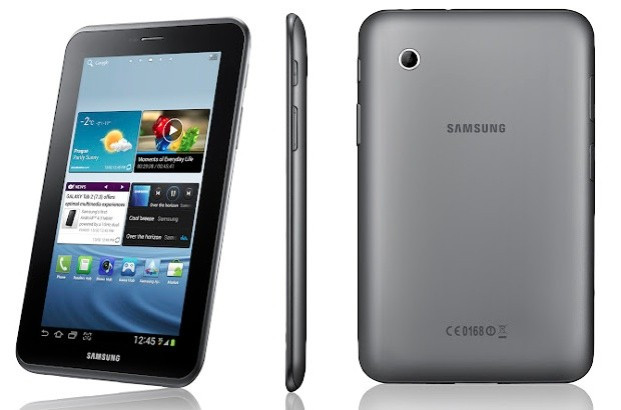 Samsung, who officially announced the launch of Galaxy Tab 2 7in version last month and slated it for a March UK release, has seen it pass through proper FCC certifications before its inevitable launch. The tablet will be available in both 3G and Wi-Fi varieties packing specifications like 1GHz dual-core processor, 1GB of RAM and a 1024 x 600 LCD. The new tablet will pack Android 4.0 Ice Cream Sandwich operating system. And its other features read as: 193.7 x 122.4 x 10.5mm dimension, 344g, 8/16/32 GB storage along with microSD support up to 64GB, 3 megapixel camera, 1080p video capture, VGA secondary camera, Li-Ion 4000mAh battery, Bluetooth capabilities, and HSPA+ connectivity.
In fact one other rumor related to Apple's smaller version of the tablet reveals that 7.85in iPad will utilize a "slim bezel display." The display screen is expected to be supplied by LG and AU Optronics. Also the rumored tablet is targeted towards the budget market, with a price tag of between $249 or $299, challenging the $199 Amazon Kindle Fire. Other rumors surrounding iPad mini include iOS 5.1 operating system, dual-core 1GHz CPU processor similar to new 9.7in iPad version, 1024 x 768 resolution, 8GB/16GB/32 GB memory storage, Wi-Fi connectivity, cloud computing feature and two cameras.