Apple iPhone 4S Available for Pre-Order 7 October: Release Date Soon?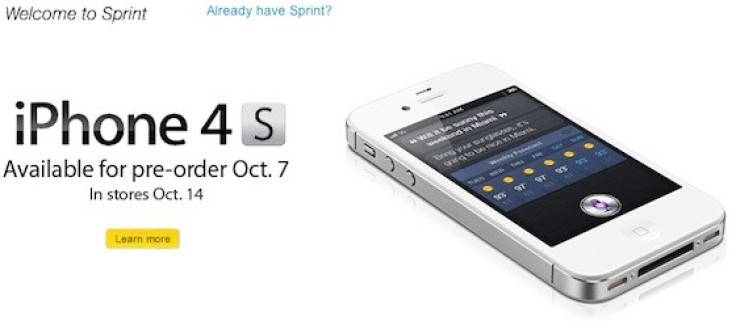 Sprint has confirmed it will be making Apple's newest iPhone, the iPhone 4S, available for pre-order from 7 October.
Sprint has already applied a new banner to its web site's homepage confirming the device will be available for pre-order from 7 October.
Additionally, in its accompanying press release, Sprint confirmed it would be offering plans boasting unlimited data usage -- an offer not given by any U.S. iPhone carriers.
"Our unlimited data plans are the perfect fit for iPhone customers," commented Sprint CEO Dan Hesse on the new deal. "Sprint's unlimited data plans provide more value than metered plans from other carriers. Our customers can take advantage of the innovative features of iPhone without worrying about overage charges or surprises on their bill."
As well as the unlimited plan, the carrier is offering two other deals each with varying call time minutes. The high price unlimited plan will set customers back $109 per month, while the 900 minute plan will cost $99.99 per month. The cheaper 450 minute plan will cost $79.99.
The device itself has also been priced, with the 16GB going for $199.99, the 32GB for $299.99 and then 64GB for $399.99. All the prices are a part of a two-year contract.
The news follows the iPhone 4S revealed on Tuesday. Since its unveiling the device has met with a tepid reaction by Apple fans. The main criticism stems from fans desire to see the rumoured -- though never confirmed -- next-generation iPhone 5.
© Copyright IBTimes 2023. All rights reserved.