The iPhone 5 has gone on sale in the US and much of western Europe today, with thousands of people queueing overnight - and in some cases for more than a week - to get their hands on the new Apple smartphone.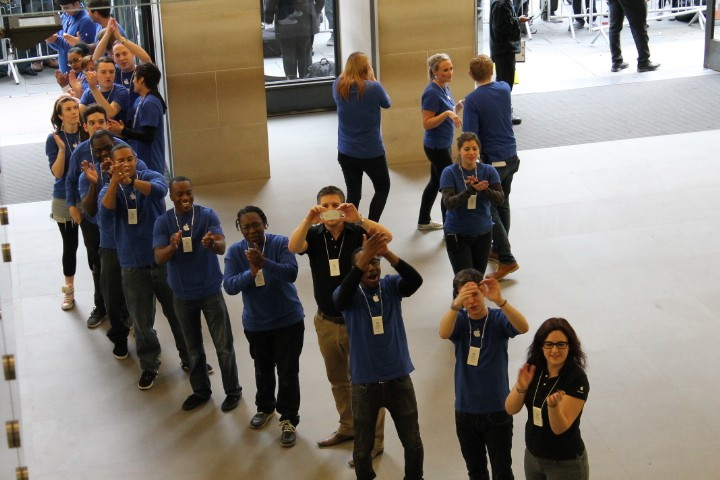 IBTimes UK braved the elements - quite a nice night, actually - and queued for 14 hours at Apple's flagship UK store on London's Regent Street to not only ensure that we got our phone, but to ask why people queue up for it.
You can read technology editor David Gilbert's liveblog of his night of iPhone 5 queueing here.
The iPhone 5 has a 4in screen - half an inch larger than any previous iPhone - and it is also thinner and lighter than ever before, and powered by the new A6 dual-core processor, it promises to be twice as fast as the year-old iPhone 4S.
Early reviews of the iPhone 5 praised its design, which at a glance looks very similar to the last two generations, but is it fact entirely new, with a relocated headphone jack, new Lightning dock connector and aluminium rear being the most obvious changes.
This week also marks the launch of iOS 6, Apple's latest mobile operating system for the iPhone 5, and some older iPhone and iPad models. iOS 6 claims to being more than 200 new features, but it is the updated Maps app, improvements to Siri and NFC-sidestep Passbook that are the standout features.
Maps received widespread criticism when it became available on 19 September, with the app - which is no longer powered by Google and instead uses Apple's own maps, along with data from TomTom - misplacing towns, adding fictional airports, spelling placenames incorrectly and covering whole areas in cloud.
Our in-depth review of iOS 6 highlights these problems, and also looks at Passbook, Do Not Disturb, Panorama and more.
As always, customers turned up in their thousands to queue up for the latest offering from Cupertino, but the queues were not as full of die-hard Apple fans as we had expected.
Instead, the queue was headed by a pair looking to raise money and awareness for a bakery which they hope to set up for women who have been victims of abuse and the sex trade. The two men had queued on the pavement for eight days.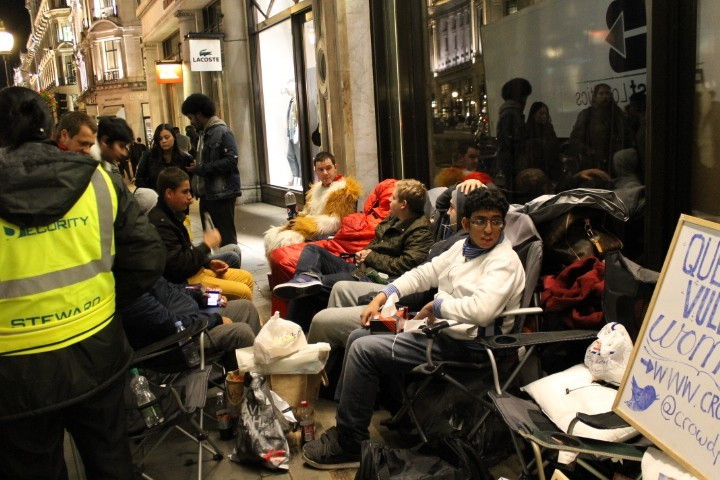 Further down, many Eastern Europeans were there having flown over specifically to buy two iPhone 5s (the limit per customer), which they will then take back to their home country - many were from Latvia - to sell on from a profit, as the iPhone 5 is not on sale there yet.
Apple announced last week that it received two million iPhone 5 pre-orders in just 24 hours, double that of the iPhone 4S last year, and as a result the expected delivery date soon slipped to October for those not lucky enough to be in the two million.
IBTimes UK will be spending some quality time with the iPhone 5 today, so check back soon for our in-depth review and comparisons with rival smartphones.