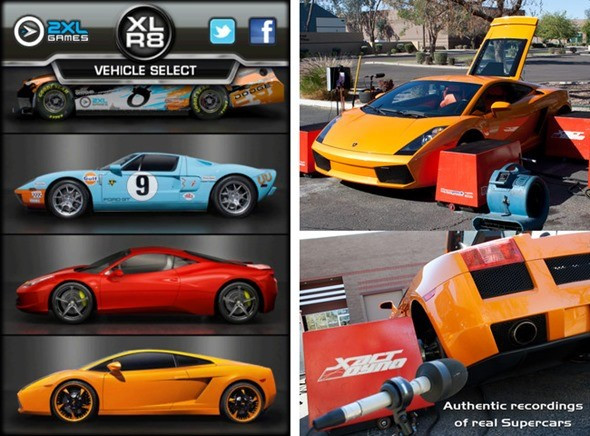 If you've always been troubled by the less-than-impressive screeching of your car, this app could be the answer to your problems. The low-cost app, supported by both the iOS and Android platforms, sells at just £0.62.
Welcome aboard the "XLR8", which simulates the sounds of various sports cars using your phone's accelerometer to play engine sounds that sync with your driving style. So, whenever you rev-up your car's engine, the audio revs up as well. Expect the audio levels to match the acceleration and deceleration of your car, giving you the sound effect of the race car you've always wanted to have.
According to RedmondPie, the developers must have put in a lot of hard work to synchronise the sound effects of the app to match car speeds, shifting points, braking sounds and gear transmissions, although the app reportedly has some issues when it comes to shifting in sync with your vehicle.
The versatile app is capable of reproducing the engine noises of several supercars, including a V8 muscle car, a NASCAR stock car, a Ford GT40, a Ferrari and a Lamborghini. That is quite a rich set of choices to choose from and you might switch between them depending on your mood. The app′s Android and iPhone versions come with just the V8 muscle car. The NASCAR engine, the Ford GT40, the Ferrari and the Lamborghini sports cars are all available as in-app purchases.
We should caution you the app is meant purely for novelty value rather than inducing you to try to respond to all the revving and actually believe you are driving a Ferrari or a Lamborghini.
Meanwhile, Mashable spoke to Robb Rinard, the creative director at 2XL, the app's developers.
"I'm a race car aficionado as well as a sound designer with a passion for the sound of a well-tuned engine," Rinard said, adding, "When I was little, I was the kid who would sit at the breakfast table and make race car sounds with my mouth for fun while dreaming about tearing up the track."
Download Links:
Download XLR8 for iPhone and iPad [iTunes link]
Download XLR8 for Android [Google Play link]
Check out the Video
MUST READ: Sharp Begins Mass Production of Retina-Resolution IGZO Displays
MUST READ: AT&T Unlocking Off-Contract iPhones: How to Get your iPhone Unlocked [GUIDE]
MUST READ: Inventory Shortages: Apple to Replace Select White iPhone 4 Models with 4S