All the rumours suggested we would get the iPad HD or the iPad 3, but instead we simply got the new iPad.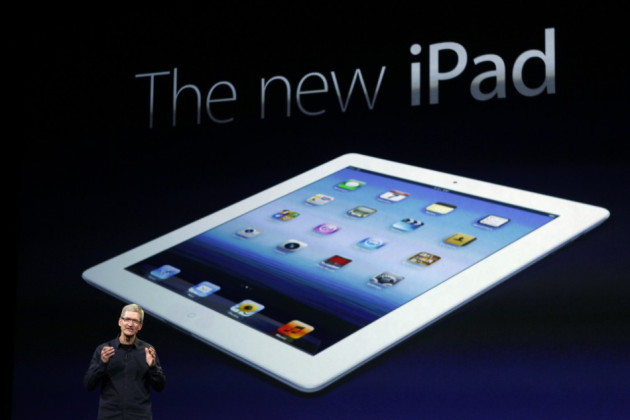 Key Features:
9.7in Retina Display with 2048x1536 resolution
A5X chip with dual-core CPU and quad-core GPU
5-megapixel isight camera with 1080p video capture
4G LTE version available
Tim Cook has just left the stage in San Francisco after unveiling the third generation iPad. The standout feature will be the high definition Retina Display, which will have a resolution of 2048x1536, giving you a pixel density of 264ppi, which is not as much as the iPhone 4's pixel density but Apple says that because you hold an iPad further away from your eyes (15in it says) then this can still be called a Retina Display.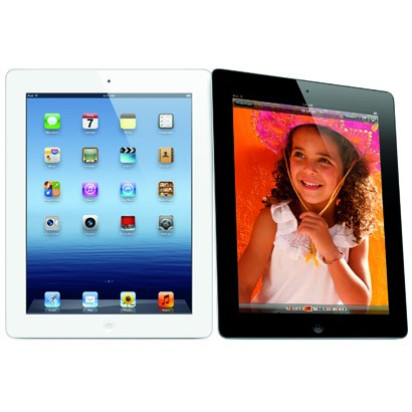 The new iPad will feature a new A5X chip which, like the A5 chip will feature a dual-core CPU but features a vastly improved quad-core CPU which Apple claims will outperform the 12-core GPU of Tegra 3 (we'll have to wait and see on that one). Apple showed off Infinity Blade: Dungeons on stage from Epic which looked seriously impressive.
The new iPad will also feature an updated camera, a five megapixel iSight camera which features auto-focus, auto-exposure, focus lock as well as image stabilised 1080p video capture. The front camera remains of VGA quality. To compliment this Apple also announced the availability of iPhoto for iPad, giving users the ability to deal with up to 19 megapixel images and edit photos on the move. The new app is available today for £4.99.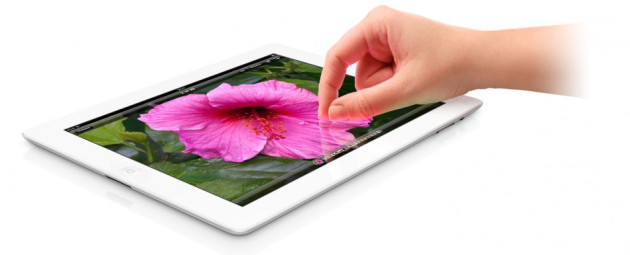 The new iPad also supports LTE 4G technology with the new tablet being described as "world-ready" by Apple with support for HSPA+ and DC-HSDPA networks. While the 4G support won't benefit users in the UK as much as those in the US, it was an inevitable inclusion.
The new iPad sticks with the 9.7in screen with a 4:3 aspect ratio, adds a couple of mm to its profile, measuring 9.4mm and weighing in at 652g. The battery life remains at 10 hours (9hrs on 4G) which is impressive if true considering the new screen technology.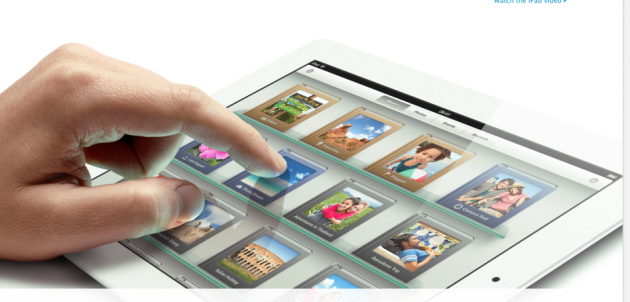 The new iPad is available now for pre-order and will go on sale in the US, Canada, UK, France, Germany, Switzerland, Japan, Hong Kong, Singapore and Australia from 16 March with more countries to follow on 23 March.
Pricing has remained the same as both previous models, as follows:
The new iPad price list:
16GB Wi-Fi - £399
32GB Wi-Fi - £479
64GB Wi-Fi - £559
16GB Wi-Fi + 4G - £499
32GB "i-Fi + 4G - £579
64GB Wi-Fi + 4G - £659
The iPad 2 has seen its price drop significantly with the 16GB Wi-Fi version costing just £329.
There will certainly be come disappointed people out there who had been expecting a some sort of haptic feedback screen technology but overall it is as expected from Apple, though we have to admit we did miss the "one more thing" at the end. Apple alos announced a new version of its Apple TV which adds support for 1080p, a new interface and the ability to access movies from iCloud.
We will be getting our hands on a new iPad very soon to give you our first impressions of that amazing-sounding screen so make sure you check back soon.