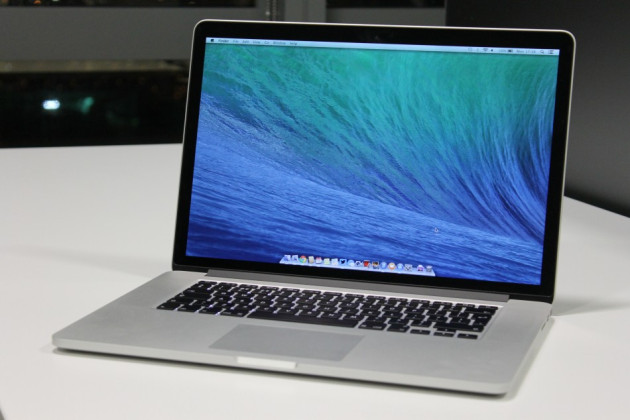 Key Features
2GHz Intel Core i7 Haswell
256GB solid state storage
15in Retina display, (2880 x 1800)
Price as reviewed: £1,699
Introduction
It's difficult to start this review without cutting to the chase and crowning the 15in MacBook Pro as the best laptop on sale today. But calling anything best-in-class is an opinion, so I'll at least try to explain why this laptop is the best for some readers, but might not be for everyone - and not just those who find it too expensive.
MacBook Pro 15in: Design and Connectivity
Visually, this laptop remains unchanged from last year's model - and that's no bad thing. Milled from a single piece of aluminium, the MacBook Pro is slim at 18mm, yet incredibly stiff with no flex at all when picked up from a corner.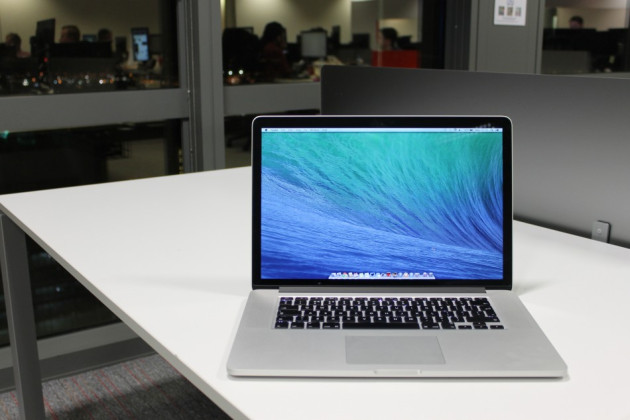 For anyone used to carrying around an Ultrabook - or my 11in MacBook Air - the 15in Pro will feel quite a bit heavier at just over 2kg. This isn't much considering the screen size and very solid build quality, but I certainly noticed the extra weight during the two hours I spend stood on the Underground each day.
When it comes to laptop design, Apple has pushed the bar far above anything its competitors can come up with. Some Acers, like the S7, look great, but no machine I've seen can match the Mac for a sense of premium build quality.
My only design complaint is that the sharp edges of the chassis dig into my wrist when using the trackpad for a long time.
Connectivity also remains the same as before, which means two Thunderbolt, two USB 3.0, one HDMI, one headphone jack and an SD card slot. Being a laptop aimed at professionals, I would have expected at least one more USB port.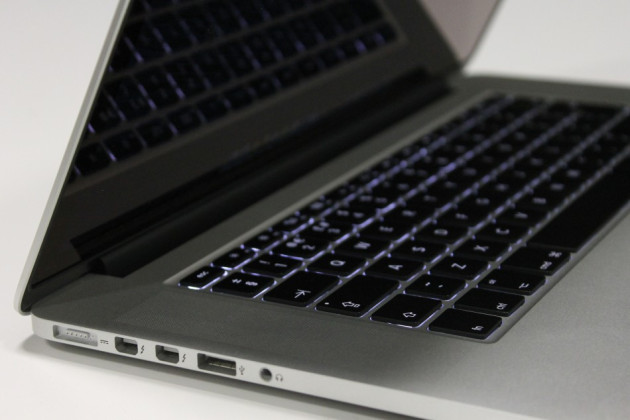 MacBook Pro 15in: Hardware and Performance
While the outside is unchanged from last year, Apple has given the MacBook Pro new internals. The upgrade to Intel's Haswell processors mean clock speeds drop slightly - down from 2.3GHz to 2GHz for the base model I've been using - but in return the laptop delivers near-identical performance to last year, but with much improved battery life.
Running performance benchmarking tool NovaBench returned a score of 1032, lower than last year's 1111, but any difference in the real world would be near impossible to spot.
It might not be scientific, but being able to open every app in the OS X dock almost as quickly as you can click them is mightily impressive. However, I encountered the 'beachball of death' loading icon regularly when pressing the spacebar to preview images saved on my desktop.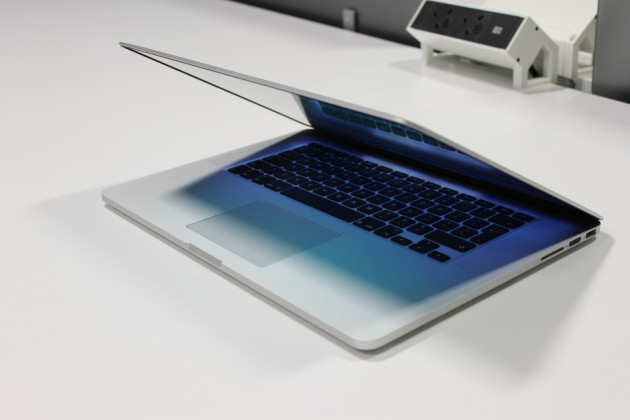 MacBook Pro 15in: Battery Life
What is very noticeable, however, is battery life. Combining the new Haswell chip with Apple's latest OS X Mavericks operating system returns frankly staggering battery performance. Where last year's 15in MBP was dead after five hours of light-to-average use, the 2013 model saw me through eight hours of constant work.
The screen was set between 90-100% brightness for much of the day to drown out the bright office lights, and was only dimmed to 60% when the sun set around seven hours into my day. This was a regular day at work involving constant use of Chrome (two windows, between five and 15 open tabs) and Tweetdeck, plus Mail and Calendar open in the background.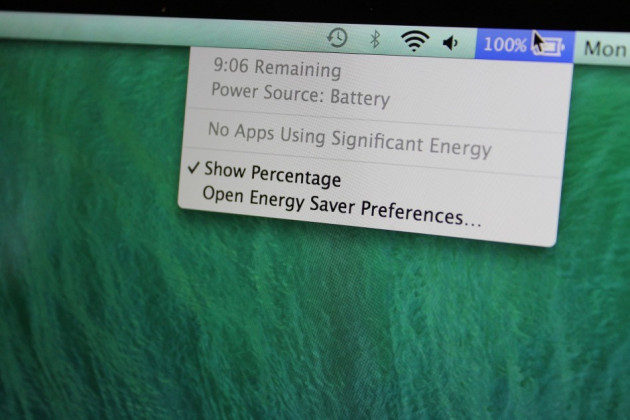 Large, powerful laptops like this have always had the power, but were let down by chronic battery life, leaving consumers to pick between the stamina of an Ultrabook and the clout of something more powerful - now though, they can have all the power with none of the drawbacks.
As with all new Macs, the 15in Pro runs Apple's new OS X Mavericks operating system. Released as a free upgrade, Mavericks takes last year's Mountain Lion and adds a number of new features, including standalone Maps and iBooks applications, plus deeper social media integration and a culling of visual metaphors like the yellow paper of Notes and leather effect of Calendar.
For more on OS X Mavericks, you can read our guides here and here.
MacBook Pro 15in: Keyboard and Trackpad
This is where Apple really excels itself; the keyboard and trackpad are both excellent. Especially the trackpad, which is large, responsive, with a precise clicking action and smooth, glassy finish. When using friends' (admittedly cheaper) Windows laptops, the trackpads never fail to disappoint and annoy me.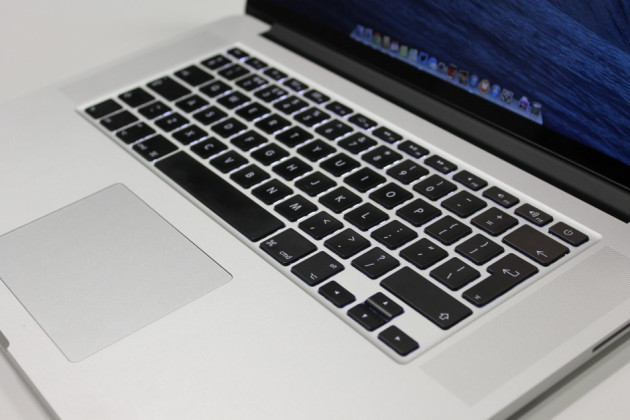 Too small and inaccurate, they let the whole experience down because while there might be a world-beating processor beneath the keyboard, if the trackpad isn't responsive, then I'm going to look elsewhere.
The MacBook's keyboard has slightly more travel than that of my 11in MacBook Air, making longer typing sessions more comfortable, and the adjustable backlighting is seamlessly integrated.
A laptop's keyboard and trackpad are your physical connections to the laptop - your steering wheel and pedals - so getting these right in crucial. Apple has had them nailed for more than three years now, with no sign of slowing up.
MacBook Pro 15in: Retina Display
As important as the keyboard and trackpad is a laptop's screen, and it almost goes without saying that the MacBook Pro's 15in Retina display is one of the very best. Although its native resolution of 2880 x 1800 will always win laptop Top Trumps, OS X sets a resolution of just 1440 x 900 as the 'best for Retina' default.
This can be cranked up to 1920 x 1200 in the Settings app, but such a resolution even in this relatively large screen makes most fonts too small to read comfortably. Switch back to the default and everything looks beautifully smooth. Sat next to my MacBook Air and it's almost as if the Pro is using a different font, such is the effect on text those extra pixels have.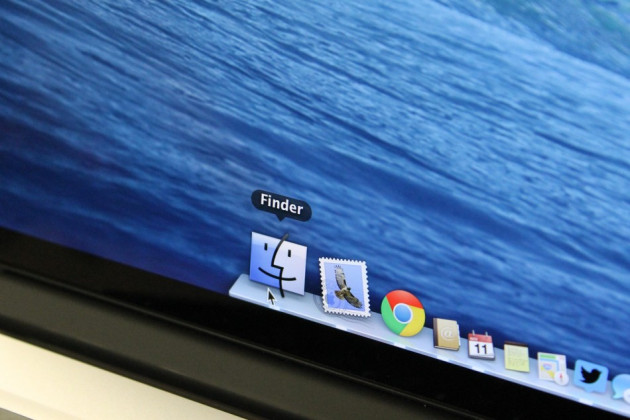 But more than lovely letters, the Pro's Retina screen means photo- and video-editing professionals get the best seat in the house for viewing their work.
Last year, the Retina-screened MacBook Pros made their own software look great, but the lack of Retina-optimised websites and third party apps made everything else look terrible; worse than being viewed through a regular laptop, unoptimised web pages looked blurry.
Thankfully, the rest of the world has caught up and most apps and websites now look great.
MacBook Pro 15in: Verdict
Buying a laptop is like buying pick-and-mix sweets at the cinema. Each sweet represents something you want from a laptop - be it a great screen, unrivalled performance, all-day battery life, excellent trackpad, portability, price and connectivity. We'd pick everything if we could, but those paper boxes are only so big.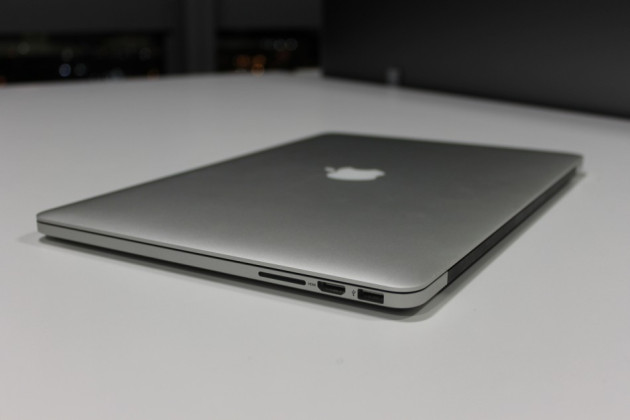 The 15in MacBook Pro offers just about everything, but the low price sweet just won't fit in the box. Sure, you could remove the great screen or the trackpad and the low-price sweet would fit into this stretching metaphor, but then the Pro would lose two of its defining features.
What I'm trying to say, is no laptop can offer everything. The 15in Pro gets awfully close to perfection, but some consumers will disagree with the price, while others will demand more USB ports or a removeable battery and a Blu-ray drive.
However, if are will to pay the £1,700 asking price - or even £2,200 for the uprated model - then what we have here is quite probably the best laptop on sale today.
Scores
Overall: 9/10 - This is the best laptop on the market. You get what you pay for.
Design: 10/10 - Sleek and sturdy, Apple design may not have changed for years, but it's still market-leading
Performance: 9/10 - As fast as almost anyone would need. OS X Mavericks flies and it always stays cool
Display: 10/10 - Industry-leading, and even better now the low-resolution internet has caught up
Battery Life: 9/10 - Not as impressive as the MacBook Air, but eight hours of regular use is hugely impressive
Value: 7/10 - Yes, it's very expensive, but that's the price you pay for a laptop with almost no compromise
The Good:
Industry-leading keyboard and trackpad
The Bad:
Non-Retina apps and websites look bad