Apple MacBook Pro 2014 Base Model Will Have 16GB of RAM: Full Specs Leaked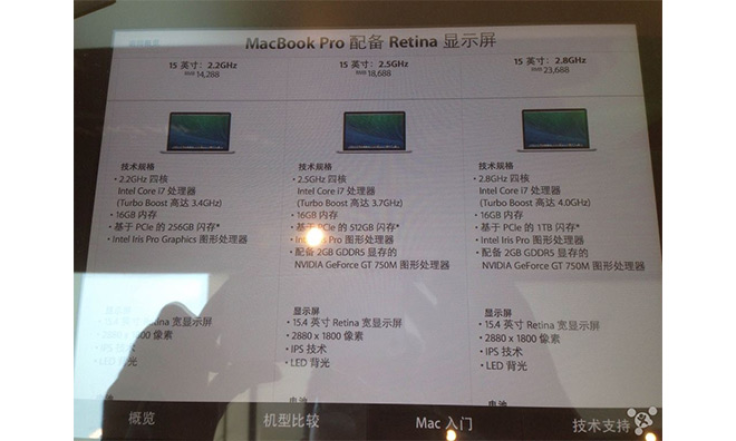 In-store signage images from China now indicate that Apple's next MacBook Pros will offer 16GB of RAM even on base models, according to a report from AppleInsider.
The report cites information from images that come via Chinese Apple forum Feng.com. They originate from Apple's recently opened Paradise Walk outlet in Chongqing and contain detailed specifications of the next 15in Retina MacBook Pro.
Among the three models detailed in the picture, the entry level model features a 2.2GHz Intel Core i7 CPU, 16GB of RAM, a 256GB SSD and Intel's integrated Iris Pro graphics.
The mid-range model houses a 2.5GHz Intel Core i7 processor along with a Nvidia GeForce GT 750M discrete graphics card with 2GB of GDDR5 memory.
And the high-end model features a 2.8GHz Intel Core i7 CPU, 16GB of memory, 1TB SSD and Intel Iris Pro and Nvidia GeForce GT 750M graphics.
Recently, reports indicated that Apple's MacBook Pro 2014 line-up will not offer anything radically new and that MacBook Pro 2013 users will find little reason to upgrade.
This new leak adds weight to that speculation, since the 16GB base RAM specification might help Apple make up for the fact that there is nothing new about their MacBook Pro line-up apart from a minor performance bump.
If the information from the signage is to be believed, AppleInsider says that Apple will keep MacBook Pro prices steady. However, there is currently no information on the product's release date.
KGI analyst Ming-Chi Kuo, who has had a solid track record of predicting Apple's release schedule and product details, has said that the laptop refresh is to come late in the third quarter, possibly in August or September.
© Copyright IBTimes 2023. All rights reserved.