MobileMe's core services have been rewritten to apparently work with the new iCloud. The iCloud is Apple's latest cloud service which allows in storing one's music, apps, photos, videos and documents and pushes them to devices.
Additionally, the MobileMe service will no longer be available. According to Macgasm, Apple has been reportedly sending out an offer which contains a free DVD of Snow Leopard to upgrade to Lion and have access to iCloud. MobileMe customers can log in to their account and fill the mailing information to receive the free DVD of Snow Leopard. Users will have to rush, since the offer will expire on 15 June.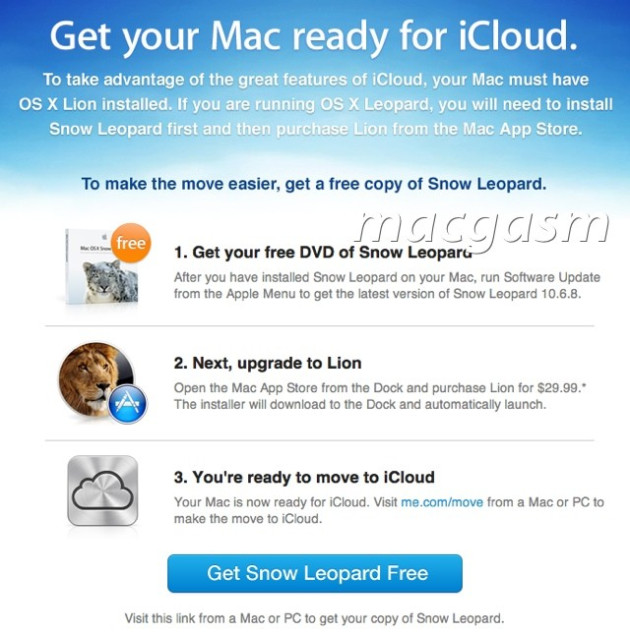 The email sent by Apple reportedly summarises the three-step procedure to bring MobileMe Leopard customers onto iCloud. After users receive their free DVD of Snow Leopard, the new operating system has to be installed. Users should now buy the OS X Lion from the Mac App Store which is currently available for $29.99. Users can visit the MobileMe site to move to iCloud.
While the MobileMe is set to discontinue as of 30 June, Apple aims to encourage MobileMe users to switch to iCloud. By installing Snow Leopard 10.8, users can upgrade their Macs to OS X Lion and enjoy the sophisticated iCloud on their Macs. It is not clear if the offer is applicable only for MobileMe's paid users or for all users.
The Mac OS X Snow Leopard has been the seventh major release of Mac OS X. It was unveiled at the Apple Worldwide Developers Conference on 8 June 2009. It offers improved performance, greater efficiency and reduction in its overall memory footprint.
It is an amazing offer to move to iCloud which is more than hard drives in the sky. Interestingly, iCloud automatically offers 5GB of free storage. It securely stores all content which will always available to one's iPhone, iPad, iPod Touch, Mac or PC. Probably, the distribution of a free DVD of Snow Leopard could be just a way to attract customers, and an easy transition to OS X Lion and iCloud.