Apple has sent out invitations to a media event on 22 October when the company is widely expected to announce updates to its iPad and iPAd mini products.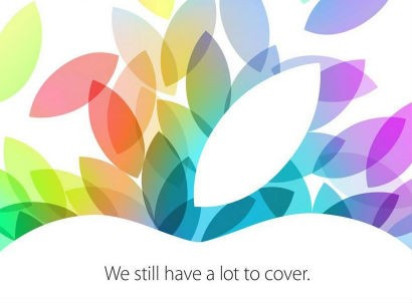 The invitation, which shows the top of the famous Apple logo, in front of numerous apple stalks in various pastel colours, includes the tagline "We still have a lot to cover."
The event will take place in the Yerba Buena Center for the Arts in San Francisco, California at 10am (local time) next Tuesday which is 6pm UK time.
Although nothing else is revealed by the invitation, images of leaked components from Apple's production line suggest that the full-size iPad will be updated to feature a slimmer, squarer design as used by the current iPad mini.
As for the smaller iPad, the second-generation mini is tipped to be announced by Apple at the event. While the tablet is expected to gain a higher resolution Retina display to rival the full-HD screens used by its rivals from Google and Amazon, speculation of manufacturing delays and stock shortages suggest a Retina-screened mini 2 might not arrive until early 2014.
Touch ID
Other reports claim both the iPad and iPad mini will get the Touch ID fingerprint reader first featured on the iPhone 5s; located on the Home button, the reader is used to unlock the device and pay for purchases from the iTunes and App stores without needing to enter a PIN or password.
Another feature borrowed from the iPhone 5s is its new colour options. Photographs of parts of the upcoming iPads reveal the same grey, silver and gold colours for the tablets' aluminium rear cover.
Another likely addition to the iPad lineup is the iPhone's new 64-bit A7 processor and an increase in RAM for both models.
OS X 10.9 Mavericks
First announced in June, Apple is expected to show off the finished version of its new desktop operating, OS X Mavericks, at the 22 October event and make it available to the public as a paid-for download soon after the presentation ends.
Updates to the MacBook Pro range are also expected - as is more news on the new Mac Pro which was also announced in June, with Apple saying it would go on sale later this year.