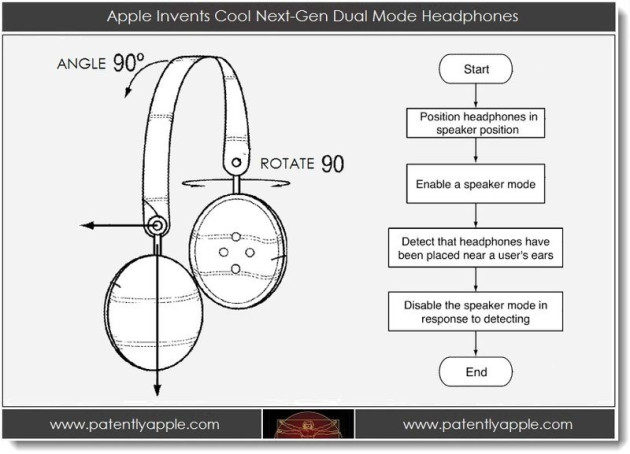 Apple is said to be working on next-generation headphones which could be operated in two modes, according to a patent filed by the company.
Patently Apple states the headphones could provide audio directly to the user's ears in an ear-mode and come up with audio as speakers in a speaker mode as well.
Apple's invention includes construction of the dual mode headphones which could offer an audio output for users in two different modes based on the user's requirements.
According to a report, the headphones body may feature a sound port through which the sound will be generated via transducer or speaker. The body could feature an articulated or movable component to the sound part allowing it to be moved from a first position corresponding to headphone to the second position corresponding to speakers. The headphones may rest as speakers on any surface.
To generate a louder output in speaker mode, the headphones could come with an amplifier which can be used to amplify the audio signals in the speaker mode.
"To prevent injury to a user by outputting amplified audio while the headphones are near a user's ears, the headphones could include a sensor for detecting a distance between a user's ears and the headphones," claims Patently Apple.
For instance, a sensor that will have the ability to detect contact between the headphones and the user could be provided.
"When the headphones detect that a user's ears are near the speakers of the headphones, the headphones could automatically disable the speaker mode and enable the in-ear mode. The headphones could then bypass the amplifier, or reduce the gain of the amplifier to provide an audio output at a lower volume," explains Patently Apple.
In regard to conservation of resources, the headphones could include the ability to turn off the amplifier in ear-mode. According to the report, the patent was originally filed under serial number 098769 in the second quarter of 2011 by sole inventor Edward Hyatt.