UPDATE: Apple has now restored its online store and the reason for the downtime? Well, it appears as if Apple has brought their in-store Geniuses online. That's right, If you go online looking to choose the right phone, laptop or tablet, there will now be a virtual assistant to help you.
Now there's a whole new way to shop for an iPad or iPhone at the Apple Online Store," says Apple. "You can talk directly to a trained Specialist over the phone, start a live online chat and even watch your Specialist's screen during a personalised guided tour."
The service is initially only availble in the US and the UK.
[Initial story published at 8am on 29 August]
Apple's online store has this morning been shut down, though there is no indication from the world's most valuable company as to why.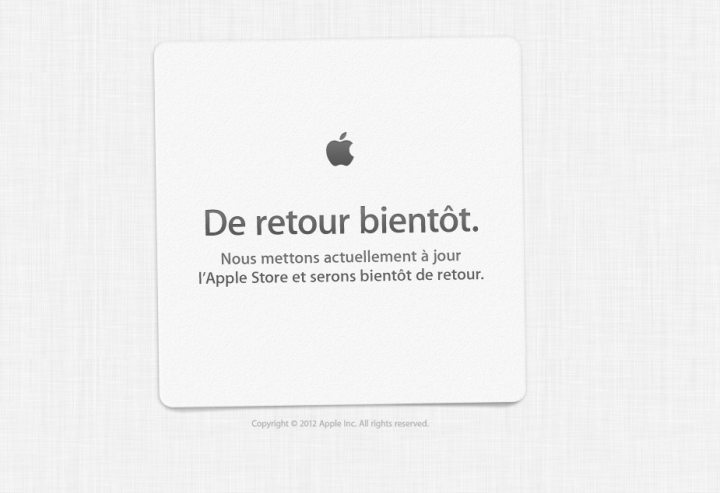 Logging onto the Apple store at the moment (at 8am on Wednesday, 29 August) returns the usual "We'll be back" message along with telling potential customers that the company is busy updating the Apple Store.
The message cycles through over a dozen languages but gives no indication of why it might be down. Apple is not expected to launch a new product until a couple of weeks time when it is said to launch the latest iPhone - dubbed the iPhone 5 (erroneously in our opinion) - along with a possible iPad mini.
There have been rumours of a 13in version of the MacBook Pro with Retina Display being in production at the moment, but again, that is not due to go on sale until September or October.
With Apple not taking part in the IFA 2012 trade show kicking off in Berlin this morning, this closure of the online store is a bit of a mystery. However, it could be something as simply as a bit of maintenance by Apple, especially considering it is the middle of the night in the US, the company's largest market.
We'll update the story when we know more, or hear back from Apple.