Samsung went through a "crisis of design" shortly before its iPhone-rivalling Galaxy S smartphone was launched in 2010, according to an email sent to staff from a design executive.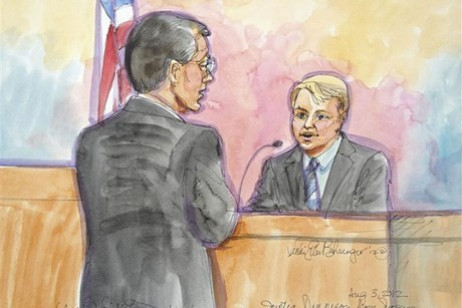 Head of mobile communications at Samsung J.K. Shin said in the email, which has been brought to light by Apple lawyers during the on-going patent trial: "All this time we've been paying all our attention to Nokia, and concentrated our efforts on things like Folder, Bar, Slide,"
Shin goes on: "Yet when our UX is compared to the unexpected competitor Apple's iPhone, the difference is truly that of Heaven and Earth. It's a crisis of design."
As the trial began its second week, Apple continues to accuse Samsung of "slavishly copying" the iPhone's design as part of its $2.5bn case against the South Korean tablet and smartphone maker.
Not put off by Apple's accusations, strategy head of Samsung Justin Denison took the stand, downplaying the language used in Shin's email, stating it was hyperbole typical of that used internally at Samsung.
Denison said: "Samsung does an excellent job of remaining very humble, self-critical and maintaining a sense of urgency within its own ranks to drive hard work and innovation.
"We want to change so that it never rests on its laurels and becomes complacent. So you hear a lot of hyperbolic statements like 'crisis of design' and 'heaven and earth'."
Substantially the same
On the same day, Apple brought forward its first expert witness to the stand, Peter Bressler of design firm Bresslegroup, who claimed that Samsung's designs were "substantially the same" as Apple's.
Bressler told the jury: "My opinion [is] that there are a number of Samsung phones and two Samsung tablets that are substantially the same as the design in those [Apple] patents."
The design expert went on to say that some of Samsung's products are so similar to Apple's that customers could become confused between the two, although he later admitted that he hadn't witnessed this confusion for himself when cross-examined by Samsung lawyer Charles Verhoevan.
While questioned about very specific design details of the allegedly similar products, Bressler said: "you're asking me to compare peanut butter and turkey," and when Verhoevan asked which company was which food, Bressler replied: "This is a level of detail that the ordinary observer would never be interested in looking at."
Convince the jury
In a further attempt to convince the jury that Samsung does not and has not copied Apple, questions to Denison from Samsung's attorney John Quinn attempted to downplay the importance of being first to market with certain designs and smartphone features.
He said Samsung introduced many features before Apple, including voice recognition technology, adding that he didn't feel "ripped off" when Apple introduced similar features.
With regard to screen size, Denison said that he would not mind if Apple's next iPhone has a larger screen and follows a trend that has seen Samsung and others offer phones with increasingly large screens.
The next day of the Apple vs Samsung trial will see more testimony from Bressler and Apple expert witness Susan Kare, who is the former creative director at NeXT and a contributor to the first Mac's graphical user interface.