Tim Cook said all the right things at this week's All Things Digital conference, but it's starting to fall on deaf ears as he and his company need to stop talking and start acting if Apple is to recapture our imagination.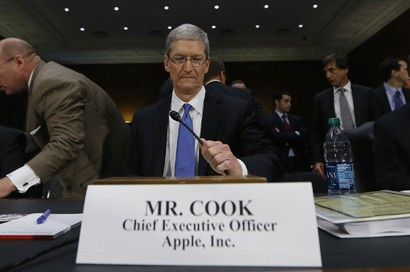 Everyone knew the phenomenal rise from the brink of bankruptcy to global icon wouldn't last forever and that the iPod, iPhone and iPad were once-in-a-lifetime devices which couldn't be repeated year in, year out; but Apple's success will soon reach an apex if the creatives at Cupertino don't come up with another show-stopper this year.
The consumers, ever hungry for the Next Big Thing, know this and investors know it too, as despite Cook's confident talk of a "grand vision" for television and wearable tech being "ripe for Apple," the company's share price fell in after-hours trading.
iDevices
Apple could do no wrong through the 2000s, as the three iDevices took the world by storm and before we knew it this niche computer maker had become the largest company in the world. It was a great American success story and one which everyone with a fleeting interest in technology and business could appreciate. We all like facts with big numbers and Apple was churning them out as quickly as it was changing the lives of its customers. It could seemingly do no wrong.
But now Apple finds itself firefighting in every direction; consumers and investors demand new products, rivals want to fight over patents, the US has a problem with its tax arrangments and the EU isn't happy with its ebook pricing or the way it's alleged to sell iPhones, and all this is happening while the thorn of Google remains lodged firmly in its side.
Eye devices
While Google has the guts to blow minds and create controversy in equal measures with Glass - making an entirely new product category in the process - Apple is holding back. It has every right to take stock and assess its unprecedented turnaround, but now is the time we need to see Apple get its flare and its confidence back, and create something truly revolutionary.
Faster iPhones, lighter iPads and thinner MacBooks will always be welcome, but we need more from Cook, Ive and the rest of Cupertino. We need these "game-changing" products the CEO spoke of and we need them now, before Jobs' old mantra of 'staying young and foolish' becomes that of Google.
Just watch Larry Page's ten-minute speech at Google's I/O keynote to see evidence of a company that is daring to dream bigger than the rest of Silicon Valley put together.
But just what will Apple's new product category be? It won't be a television - not yet anyway. Analysts like Gene Munster can write predictions until their keyboards wear away, but producing such a product is years away and will require cooperation among TV networks, producers and hardware manufacturers the world over to be a success: Apple has power, but if Microsoft can't even come close with the Xbox One, which merely slaps a custom interface over your TV, then what hope does everyone else have?
No, Apple's Next Big Thing will be wearable, it'll run iOS, it'll communicate with every Apple product you already own (so long as they're up to date) and it'll be sold as something to make your life easier.
A smartwatch similar to the Pebble has been the talk of Apple rumour mill for months, but that went quiet just as we were starting to expect blurry photos of a Chinese production line and 'leaked' specifications. Has Apple upped its security game, or did that early watch development end up going to waste?
Either way, if wearable technology is as "ripe for exploration, as ripe for Apple to get excited about" as Cook says it is, then that fruit needs picking now and to be on sale this year if Apple wants to recapture the Silicon Valley spotlight from Google.