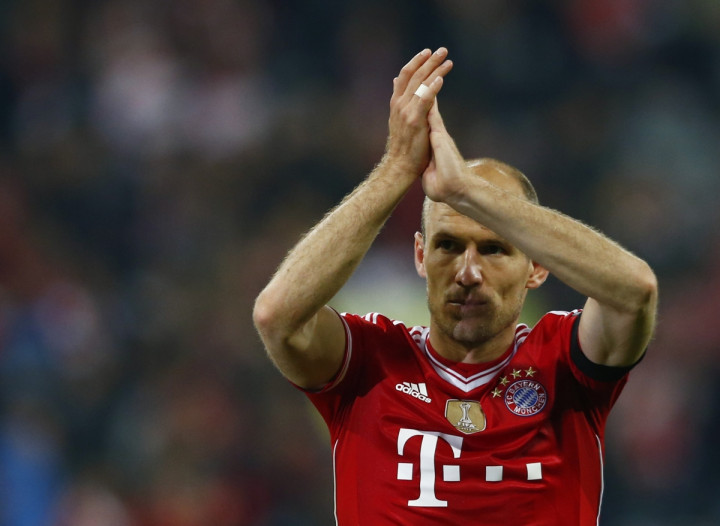 Bayern Munich winger Arjen Robben is confident that Louis van Gaal will bring Manchester United back to the Champions League this season.
The Manchester club had their worst season to-date under former manager David Moyes and finished a dismal seventh in the 2013/14 season and for the first time in 19 years, failed to qualify for European football.
\"United have some young, talented players and I have no doubts that he will do well at Old Trafford. He will get United back into the Champions League next season, where they belong. They\'re such a big club and that\'s where they belong,\" Robben said, as quoted by the Mirror.
The former Chelsea player, who played under the Dutchman at Bayern and for Netherlands, feels that he will make the Red Devils a better team.
Robben admitted he was happy to see van Gaal get his first win as United manager, following their demolition of Queens Park Rangers in the Premier League last Sunday.
The Dutch international believes that the manager will need time to settle down before results start showing, but is confident that van Gaal will succeed at Old Trafford.
\"I haven\'t spoken to him recently, but I was very happy for him that he won the game against QPR. Hopefully now he can show that he will do very well, but he needs time,\" the Bayern forward said.
\"I know how it works. If you\'re not winning, you get the pressure, but the management at United know what sort of coach they\'ve got and I\'m very confident he\'ll be successful there.
\"I\'ve worked with van Gaal at Bayern as well as with Holland, so I\'ve known him for a very long time. He\'s one of the few coaches, I think, who can make teams play better. He makes players better,\" the 30-year-old winger concluded.