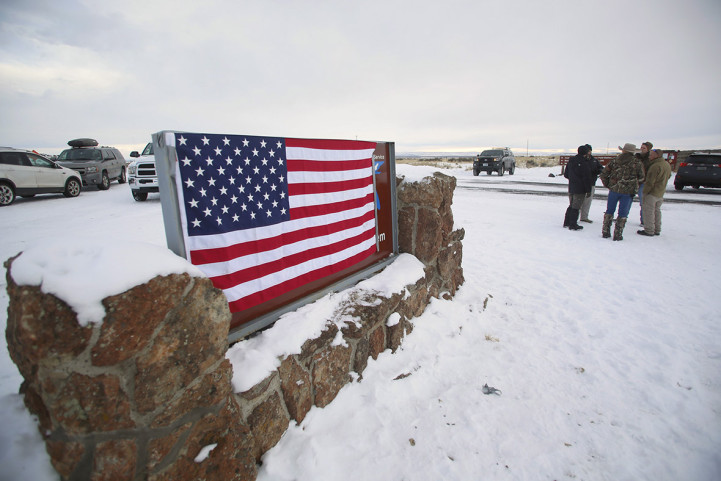 A group of armed anti-government protesters led by brothers Ryan and Ammon Bundy who occupied a remote wildlife sanctuary in the western US state of Oregon were acquitted of felony charges on Thursday, 27 October.
The six men and one woman were facing charges of conspiring to impede federal employees at the Malheur National Wildlife Refuge by intimidation or force. Each of them faced up to six years in jail on the charge of conspiracy while many others faced gun charges.
The decision by the court comes as a blow to federal prosecutors, who argued that the Bundys along with the others used force and threat of violence to occupy the reserve. However, the jury appeared to be convinced by the defendants' argument that they were demonstrating against government overreach and did not pose a threat to the public.
Defence lawyer Lisa Ludwig said that the acquittal was "stunning" as supporters of the group erupted into cheers, AFP news agency reported citing local news outlets.
The trial was reportedly fraught with tension as Ammon Bundy's lawyer, Marcus Mumford, who was frustrated with the judge over the terms of his client's continued detention, was restrained by four US marshals after an outburst.
Angela Bundy, Ryan Bundy's wife, told New York Times on phone: "I knew that what my husband was doing was right, but I was nervous because the judge was controlling the narrative. But they saw the truth. I am just so grateful they saw it."

Neil Wempler, one of the defendants, said: "It's a tremendous victory for rural America — a disastrous, humiliating defeat for the corrupt federal government."
Kate Brown, Oregon state governor, tweeted that she respected the jury's decision but was disappointed. "The occupation of the Malheur Refuge by outsiders did not reflect the Oregon way of respectfully working together to resolve differences," she said.
The Bundys, however, still face assault and conspiracy charges from another standoff in 2014 at their father Cliven Bundy's ranch in Nevada, which was prompted when federal agents captured his cattle after he failed to pay grazing fees for his use of public land.
The 41-day siege on the sanctuary began on 2 January, 2016 and shone a spotlight on a long-running dispute over millions of acres of western public land. The takeover came to an end with the surrender of four holdouts, including one who threatened to commit suicide on phone with mediators. Earlier, police had shot the spokesperson of the group Robert "LaVoy" Finicum during a standoff.
The issue of land rights has reportedly been contentious for decades in the western US states where the federal government owns most of the land.