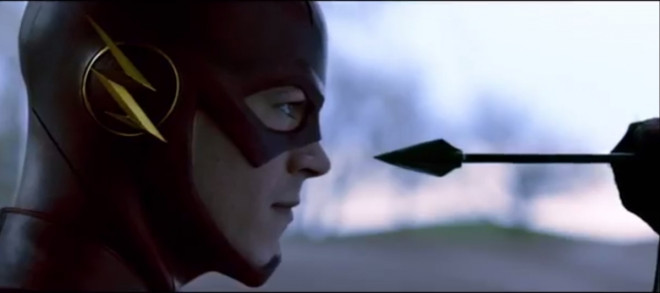 The first full-fledged trailer of the upcoming TV series, The Flash released alongside the final episode of Arrow Season 2.
The slick looking promo manages to build enough interest and curiosity to make The Flash one of the most looked-forward-to shows coming this fall.
The promo features Grant Gustin (Glee) in the titular role as he dashes through the forest to intercept an arrow launched by Arrow (Stephen Amell). Watch the promo below:
"What's best about the clip is that it pretty clearly underlines the differences between Oliver Queen (Stephen Amell) and Barry Allen (Grant Gustin). The two shows will clearly occupy the same world, but their tones — and leading men — couldn't be more different," states a MTV report.
Also, keeping in line with earlier animated versions of the speeding superhero, Gustin's Flash comes across as slightly cocky and boisterous – quite unlike Arrow.
The Flash, based on the classic, super-fast DC Comic book superhero previously came to TV for one season in 1990, starring John Wesley Shipp as Barry Allen/ The Flash. Though the latest version is unconnected to the original, Shipp will guest star in an unknown capacity.
The new series spins off from Gustin's appearance on two previous episodes of Arrow, following his adventures as he learns to use his powers and solves crimes as a forensic scientist for the Central City Police Department.
The show also stars Jesse L Martin, Danielle Panabaker, Candice Patton, Carlos Valdes and Tom Cavanagh. It is produced by Greg Berlanti, Andrew Kreisberg and Geoff Johns.