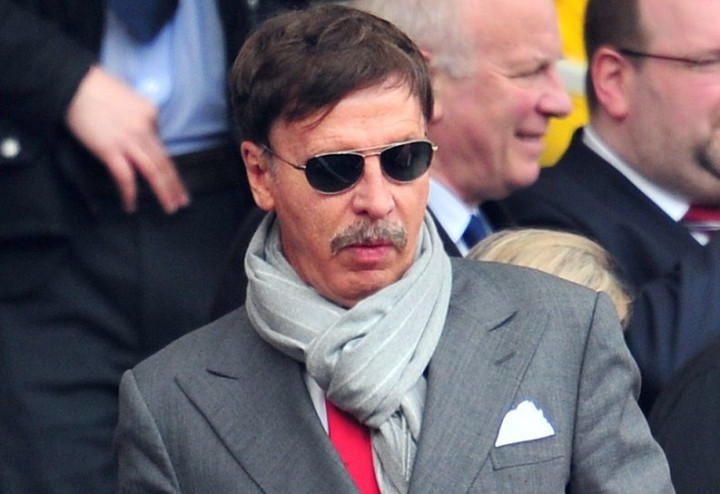 Arsenal shareholders are expected to question majority owner Stan Kroenke over a mystery £3m payment made to his holding company, which was contained within the club's latest financial results during the club's annual general meeting on Thursday 16 October.
The American businessman's Kroenke Sports Enterprises (KSE) was remunerated for "strategic and advisory fees" during the last financial year and minority shareholders are expected to demand a thorough explanation into the reasons for the payment.
Kroenke's investment and influence at the Emirates Stadium has regularly been queried and the Arsenal Supporters' Trust (AST), which owns an estimated 4.5% of the club, will seek a detailed breakdown as to the services provided by the 67-year-old owner.
While outlining the issues to be brought up during the AGM, the AST wrote: "It's reported that Arsenal paid KSE £3m for advisory services. Was a competitive tender issued for these services and can you tell us specifically what the services were, why they were needed and whether such fees will become an annual feature?"
Among the other issues set to be debated on Thursday morning include another detail in Arsenal's recently released financial figures that revealed the club have cash reserves of £173m.
Though the Gunners won the FA Cup last season, have increased their wage bill by upwards of £12m and made the marque addition of Alexis Sanchez in the summer, supporters are likely to question why such significant resources are being unused particularly given their uncertain start to the campaign.
High cost of being an Arsenal fan
Those concerns will have been accentuated by BBC Sport's Price of Football study, again highlighting Arsenal's ticket costs, which sees them charge the highest prices for match-day and season tickets.
The AST added: "Will the Board consider the difficulty fans have with keeping up with ever increasing costs of attending football and confirm there will be no increase next year?
"Once again Arsenal have ended a transfer window with tens of millions of spare cash not invested in the playing squad. Does the Board withhold these cash reserves from the manager and if not then why we are so short of defensive players? So much so that two weeks after the close of the transfer window the manager admitted we were "light at the back"?
Chief executive Ivan Gazidis' revelation that Arsenal face their "biggest challenge" in recent years when they eventually come to replace manager Arsene Wenger will also be scrutinised, with fans keen to explore how the club will manage the transition should the French boss leave after his contract expires in 2017.
Subjects such as the diversity of the current board, the ditched Fanshare scheme, safe standing and playing Premier League matches abroad will also be put to the attending board, which is expected to include Kroenke, Gazidis, chairman Sir Chips Keswick and Wenger.