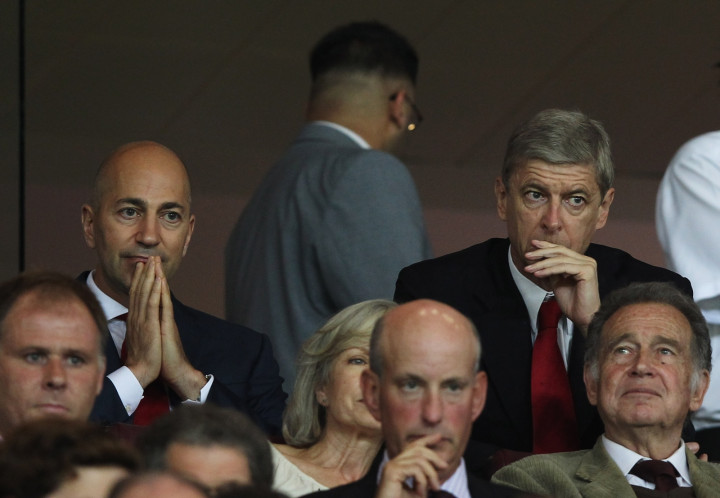 Arsenal chief executive Ivan Gazidis says the process of eventually replacing Arsene Wenger as manager will be the "biggest challenge" faced by the north London club in recent years.
Wenger signed a new three-year deal in May until 2017 that will take the 64-year-old into a 20th year with the Gunners.
The Frenchman is the longest-serving manager in English football and helped take Arsenal from peripheral title contenders to one of Europe's biggest clubs during his spell in charge and Gazidis has said replacing Wenger will be a major test.
"So much of the attention on a football club is around an individual and that's very understandable at Arsenal because we have a giant who's managing us," Gazidis told Arsenal.com.
"Arsene has been a fantastic driver and has put the club in a great, great position.
"The biggest challenge we're going to face as a club is that, when the transition from Arsene to the next manager of our football club happens – and I don't know what that's going to be – that we come through that strongly."
The last two summer transfer windows have seen Arsenal ditch their frugal reputation and splash out on two marque signings in the form of Mesut Ozil and Alexis Sanchez, while Danny Welbeck has joined from Manchester United.
Ozil's record-breaking arrival from Real Madrid was followed by Arsenal ending their nine-year wait for a major trophy by claiming the FA Cup and while Gazidis wants to continue this trend of spending, he is keen to stress the importance of youth development.
"Unlocking our international and our commercial revenues is so important for the club," he said. "It allows us to go out and, if the manager believes in someone like Mesut Ozil, he can buy him. It's the same with Alexis Sanchez.
"Underneath that tip of the iceberg, those star signings that we talk a lot about, there's an awful lot else going on.
"We're signing some fantastic young talent and we're keeping our players now, unlike the situation two or three years ago when we were really financially challenged and were losing our top players, we're signing our top players to long-term contracts.
"Our youth development, for example, is going to be the foundation of this football club going forward. We're investing millions of pounds into leadership at that level, new coaching as we go through a transition, but also in facilities."