Arsenal: Alex Iwobi brands Mesut Ozil his role model at the Emirates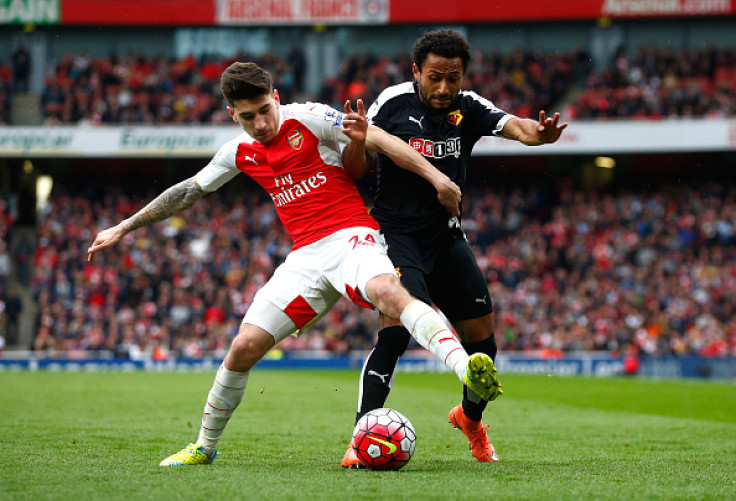 Arsenal midfielder Alex Iwobi has attributed his ascendance to the Gunners first team to the senior players who have helped him in his development. The 19-year-old has scored two goals in his last two Premier League starts and wants to continue that form against West Ham, where anything but a win will all but end their hopes of challenging for the title.
The youngster had special praise for Mesut Ozil, who he looks up to in order to improve his game. The German has an innate ability to find space in tight areas, something Iwobi wants to imbibe in his game and thereby be a more influential player on the pitch for the north London club. Iwobi revealed that Ozil always has an idea of what is around him, which allows him the time and opportunity to make his next move and dictate the play in front of the final third.
"I would say I learn from people like Mesut Ozil and Alexis because of my position, and sometimes when I play up front I learn off Danny Welbeck, Olivier Giroud and Joel Campbell. Training with them everyday, I learn a lot," Iwobi told Arsenal's official website.
"For me, I have learnt most from the way Ozil gets into space. I don't know how he gets into space because on the pitch you think someone will get close to him but he always seems to have time and space. That is something I have been watching him do, because he is always aware of what is around him. I have learnt a lot from him."
Iwobi added that training with some of the best players in the world allowed him to pick up a few tricks that were not possible when he was playing with the reserve team. The midfielder caught the eye of Arsenal fans when he was given a starting role in the Emirates Cup in pre-season but has since played a part in all domestic Cup games the Gunners have been involved in the current campaign.
"It has been an amazing experience, I'm learning from them each day," he added. "To play with them and become a regular with them is amazing. I'm enjoying the experience I'm having.
"When you are training with the best players in the world you learn things you might not get to learn in the under-21s. You're training with them as well as watching them, so you are picking up things and getting advice on what you need to work on. I have learnt a lot training with them."
© Copyright IBTimes 2023. All rights reserved.