Alexis Sanchez took part in training with Chile on 21 March, allaying fears that the Arsenal forward might face a prolonged spell on the sidelines after sustaining an ankle injury at the weekend.
Sanchez, 28, went down after a challenge from James McClean in Arsenal's 3-1 defeat at West Brom on 18 March and was eventually substituted in the 78th minute of the match at the Hawthorns.
Gunners boss Arsene Wenger said Sanchez should not have continued playing after the injury and raised the possibility of the forward missing Chile's upcoming World Cup qualifier against Argentina.
"He was injured from the tackle in the first half. His ankle is in an absolutely terrible state," Wenger was quoted as saying by Sky Sports.
"He should not have played in the second half but he insisted. In the first half he created many dangerous situations but in the second half he couldn't anymore, so we had to take him off.
"I think Chile goes to Argentina for a massive game and they play next week. If it's only a kick then he will play. But his ankle is swollen. If the ligament is damaged, he will not play."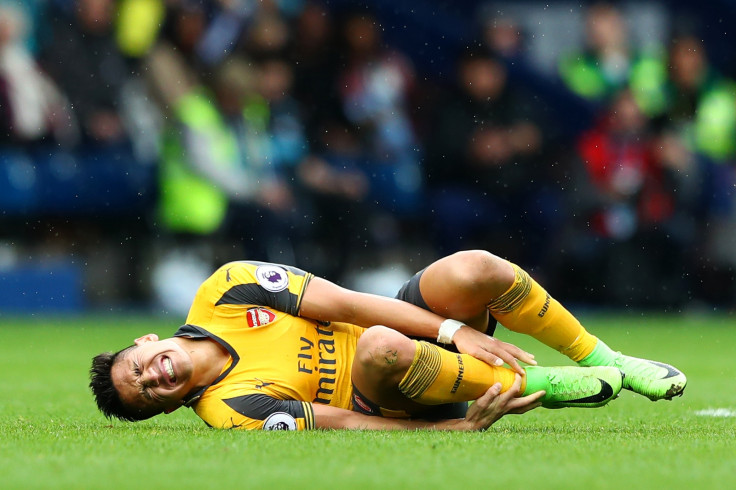 Sanchez was pictured taking part in full training with Chile ahead of their crucial encounter with Argentina at Buenos Aires on 23 March.
Chile are also due to face Venezuela in a World Cup qualifier at Santiago on 28 March.
Meanwhile, Arsenal goalkeeper Petr Cech is facing a month on the sidelines after he picked up a calf injury in the defeat against West Brom.
The 34-year-old is set to miss league fixtures against Manchester City, West Ham, Crystal Palace and Middlesbrough and faces a race against time to be fit in time for the FA Cup semi-final against Pep Guardiola'sCity.
Arsenal are sixth on the league table, six points behind fourth-placed Liverpool.