Patrick Vieira believes the current Arsenal side is gifted with better footballers than the team that went 49 Premier League games unbeaten, but admitted the current crop of players do not have the stomach for a fight.
Arsenal stumbled to their second consecutive defeat on Sunday (27 August), as they capitulated 4-0 to Liverpool at Anfield, once again displaying all their usual shortcomings and heaping pressure on Arsene Wenger just three games into the season.
The Gunners' perceived lack of heart and desire was again thrust under the spotlight as they fell apart against Jurgen Klopp's men, the fourth time in as many meetings Arsenal have conceded three or more goals against Liverpool.
However, Vieira, who captained an unbeaten Arsenal side to the title during the 2003-04 season, insisted Wenger's men had all the talent needed to haul themselves out of the current crisis.
"You don't go onto the field not wanting to win," the Frenchman was quoted as saying by the Mirror.
It's just that the characteristic of the players is different now than it used to be before.
"I'm not one to say our generation was better than this generation. It doesn't make sense to compare the two generations because we are in a different period. The quality of the players are completely different.
"The team in our generation were more physical but this generation are better football players - there's no doubt about that. So the balance is what Arsenal need to find."
Arsenal have not won the league since the Frenchman left north London in 2005 and, despite winning three FA Cups in the last four seasons, they have been strongly criticised for failing to mount a serious title bid.
Wenger, who has seen his side crash out at the round of 16 of the Champions League for the last seven seasons, has been repeatedly lambasted for failing to address a glaring lack of leadership in his team.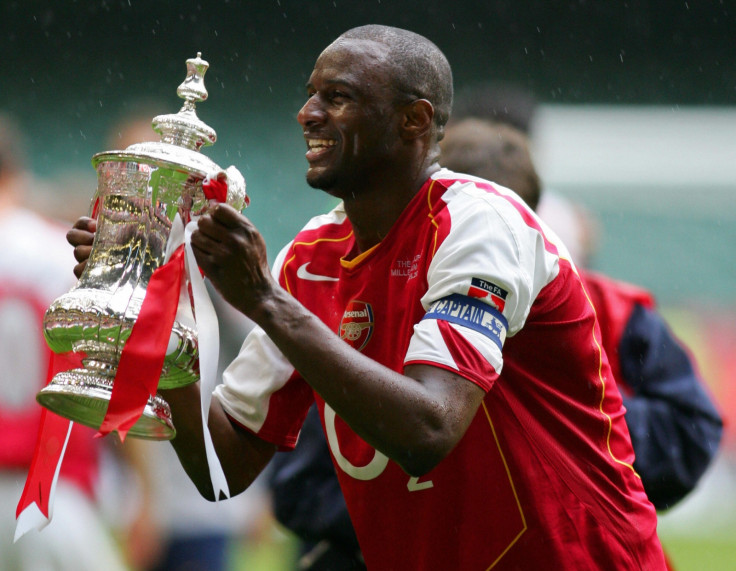 However, Vieira, now a manager himself at New York City, rejected the claim the current side lacked strong personalities.
"If you look at Arsenal today I really enjoy watching them play, they play some really good football - but that is not enough to win football matches or to win competitions," he said. "But in our time we were winning and we had the strength to not play well but somehow manage to win the game 1-0.
"But you're not going to tell me [Mesut] Ozil is not a leader? You're not going to tell me [Alexis] Sanchez is not a leader? You're not going to tell me Petr Cech is not a leader. There's leaders in the team to challenge and they have the experience to win matches."
During Vieira's spell at Arsenal, the Gunners were renowned for their free-flowing football but also for the hard, uncompromising edge they brought onto the pitch. Players like Tony Adams, Martin Keown, Emmanuel Petit and Gilberto Silva were the spine of a formidable side, which often dominated opponents with and without the ball.
However, Arsenal have since become renowned for being a side that can easily be bullied and some of Wenger's recent signings and tactical decisions have come under intense scrutiny.
On Sunday, the Frenchman left club-record signing Alexander Lacazette on the bench, opting to deploy Danny Welbeck up-front, while the midfield duo of Aaron Ramsey and Granit Xhaka floundered against their direct opponents.
Vieira admitted that Arsenal could benefit from a more rigourous tactical approach, even if it would go against the football philosophy that has made the Gunners so successful under Wenger.
"Arsene always gives freedom to his players," he added. "To have that freedom is good but if you can give them the freedom and respect the tactical aspect of the game it will be even better."