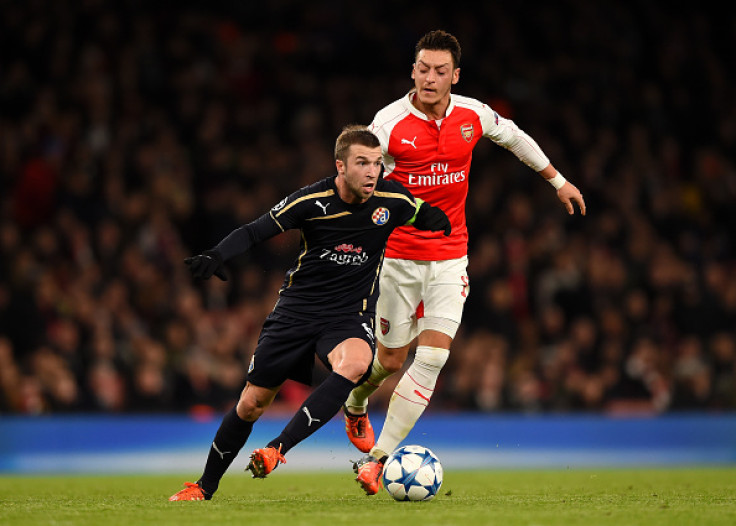 Arsene Wenger believes Mesut Ozil has become an incredible player this season. The manager says he is among the busiest players in the team and runs into the box to goal-scoring positions more often than before.
Ozil has 13 assists, more than any other player in Europe's top five leagues. The midfielder has missed only one game in the league so far for the Gunners, which was against Newcastle United and has been orchestrating Arsenal's play in the midst of an injury crisis, with seven players currently on the sidelines.
Jack Wilshere, Santi Cazorla, Francis Coquelin, Tomas Rosicky, Mikel Arteta, Alexis Sanchez and Danny Welbeck are all unavailable, which has forced Ozil to take responsibility, something he is doing with gusto at the moment. Talking ahead of their crucial game against Manchester City on Monday, 21 December, Wenger is hopeful that Ozil can take his form forward and lead Arsenal to their first title in over a decade.
"Ozil is the main provider in our team and in the league," Wenger told Arsenal's official website. "He has 13 assists in the league. Players who can make you score are very difficult to find and have something special on the vision front and on the technical quality.
"That is what Mesut is about. But he is also about, and people forget this many times, in his way [he is] an exceptional fighter. He runs much more and covers the distances during the game.
"He has added runs into the box now. You watch how many times he's in the box compared to what he did before. I think he has become an absolutely unbelievable player."
The Gunners have some good news on the injury front, with Alexis having a slight chance of making it into the squad for the fixture against the Citizens. The Chilean had scored a brace against Manchester United and his availability will provide added impetus to the Arsenal attack against a defence that will be without Vincent Kompany.