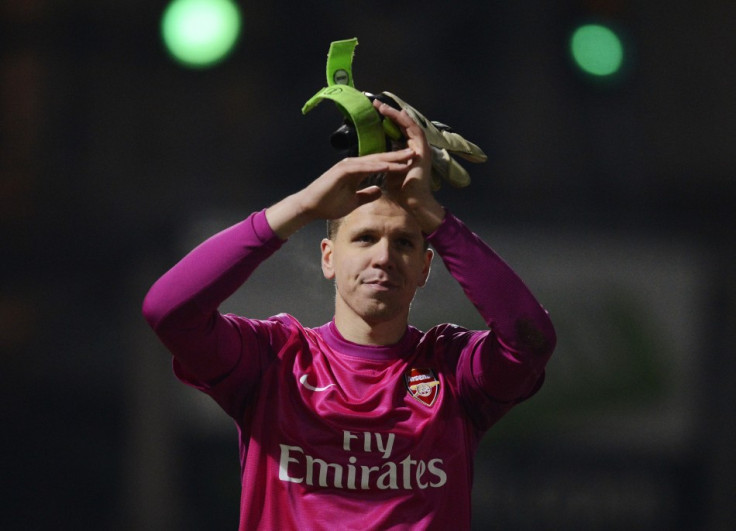 Arsene Wenger has confirmed that Arsenal goalkeeper Wojciech Szczesny is set to join Roma on loan until the end of the season, while Emiliano Martinez could also be loaned out in the aftermath of Petr Cech's summer arrival from Chelsea.
The futures of Szczesny, Martinez and Colombian international David Ospina have been under scrutiny since the Gunners announced the arrival of the Czech international in a deal that, according to the BBC, is worth £10m ($14.1m).
Ospina, who excelled as the first choice last season after the Poland international was photographed smoking, looked to be the favourite to leave the club after the player himself confirmed such a possibility.
But The Guardian has since reported that Szczesny was the one chosen to leave, and now seems to have agreed a loan move to Serie A outfit Roma.
Wenger has confirmed such a move and has also admitted that Martinez could follow in his foosteps, meaning Ospina will fight with Cech to be the first name on the teamsheet.
Speaking in a press conference ahead of the Emirates Cup Wenger said, as quoted by the club's website: "Szczesny will not be involved as he might be going out on loan to Roma."
"We are pretty much done, it's down to paperwork. As long as that's not over the line, anything can happen. Szczesny is a top-class goalkeeper and we have three top goalkeepers. If one of the goalkeepers can play somewhere then it's good.
The manager, however, add that the Poland custodian's move does not mean his time at the Emirates Stadium is over.
"But I believe he will have a future at Arsenal because I personally rate him highly. I put him in the first team at the age of 20 and he already has huge experience. I don't want that experience he got when he was very young to be wasted and that is why I gave him the opportunity," he added.
"I believe Roma are a big club and they play in the Champions League, play in a very different championship as well and that is a big experience for him and he is 25 years old. But the experience he already has at his age is fantastic."
At the same time Wenger revealed that Emiliano Martinez could complete his development elsewhere after the Argentinian spent part of last season on loan at Rotherham.
Asked about the Argentinian's future, Wenger replied: "That's not decided yet, he could still go out on loan."