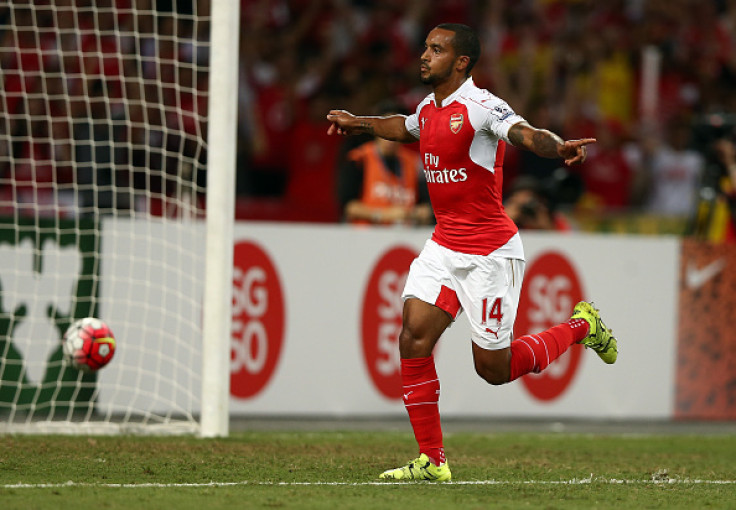 Arsene Wenger has spoken about the signing of Theo Walcott as a 16 year old, saying it was a masterstroke on the part of the club and that he has grown from a boy to a man in his decade at the Gunners. Walcott signed a new long-term contract with the club earlier this month.
Walcott was out for a major part of last season with an anterior cruciate ligament injury, which saw him on the bench for the better part of a year, but the forward has come back into the squad, scoring a hattrick against West Bromwich Albion in the last game of the 2014/15 season and also appearing in the FA Cup final, which the Gunners won in May.
Walcott is currently Arsenal's longest-servign player, and Wenger is counting on him to lead the club to their first title since 2004. Walcott made his debut for Arsenal nine years ago this week.
"He has become very mature, he has gone through difficult periods so he is a very strong man," the manager told Arsenal's official website.
"He is a man today, when he arrived here he was a boy, a little boy who discovered a world where he did not know anything about it.
"Of course he had to go through bad injuries and disappointments and I believe he is a man today, a man who knows what he wants and has been faithful to our club. It was a great signing."
Walcott came on as a second half substitute against West Ham in a shock 2-0 loss for the Gunners but failed to make it out of the bench in the following game against Crystal Palace, as the Gunners held on to a slender lead to secure their first win of the season.
The player has spent most of his career on the wings but Wenger has revealed that he will be given more opportunities through the middle this season as an alternative to Olivier Giroud.