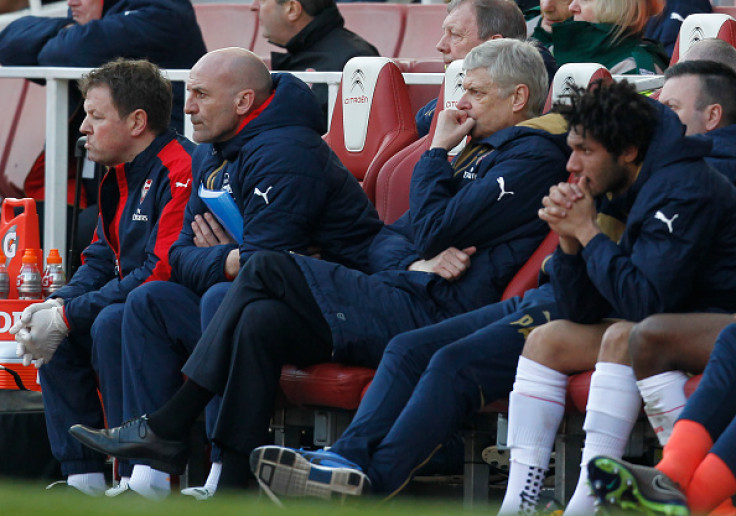 Arsene Wenger has revealed that Barcelona are not as formidable as in recent years despite the Gunners losing 5-1 on aggregate to the Catalan club over two legs in the round of one tie in the Champions League. The north London club suffered their sixth straight exit from this round in Europe and the manager is under pressure following a disappointing season thus far.
The Gunners lost 2-0 at the Emirates, with the strikers missing a plethora of chances up front which allowed the Spanish side to win the game in the second half. Alex Oxlade-Chamberlain was the prime culprit, who missed an open goal to put the Gunners ahead.
In the second leg, Mohamed Elneny scored to put the Gunners level just after the break while Danny Welbeck hit the post and Alexis Sanchez forced Marc-Andre ter Stegen to make a brilliant save on the right. However, the combined trio of Luis Suarez, Lionel Messi and Neymar proved too hot to handle for the north London club, who are looking over their shoulders in the league, having fallen considerably in their quest for the title in over a decade.
When asked why the English clubs are not able to match their European rivals, Wenger said, as quoted by Goal: "By getting the players here. Football belongs first to the quality of the players. I believe that with more income in England the best players will slowly all come to England and that will be the answer.
"They [teams from other countries] have already dropped off. For years in England we were always in the last [stages], sometimes you played an English team in the quarter-final and the semi-final of the Champions League. I believe we'll come back again.
"These teams [like Barcelona and Bayern Munich] are not uncatchable, and the regret I have about the two games against Barcelona maybe they were more beatable than ever before. They are not so much out of reach."