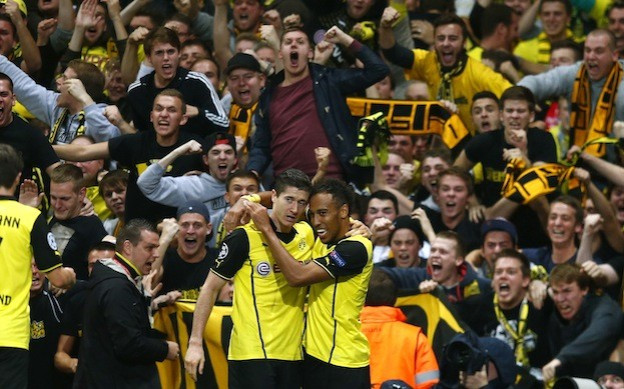 The German press have rejoiced in Borussia Dormtund's hard-fought win over Arsenal as Jurgen Klopp celebrated his side's victory from the stands.
Bild had pictures galore of the eccentric manager going crazy in the stands alongside chairman Hans-Joachim Watzke as Robert Lewandowski scored a late winner to secure a 2-1 win for Dortmund at the Emirates.
"This was a huge achievement," he said after the match. "It was an open game, we won it in the end with a fantastic attacking display."
Klopp is currently serving a ban imposed by UEFA for his outburst toward a referee during Dortmund's Champions League group game with Napoli, which Dortmund lost 2-1.
The paper also claimed that players have joked that Klopp should remain in the stands while Dortmund are playing in their upcoming Champions League matches with the side posting two wins in his absence from the dugout.
And a German publication couldn't report on an Arsenal game without mentioning Mesut Ozil, saying the midfielder was 'bitterly disappointed' with the loss and that it was one of the worst performances from the north London club's German contingent this season.
Meanwhile sport newspaper Kicker reported that Klopp said Dortmund showed they have matured in recent seasons with the side able to secure a victory despite Arsenal being the better side in the second half.
The publication also lauded the Gunners' second half performance claiming that Lewnadwoski's goal in the 82nd minute came out of nowhere and went against the run of play, with the German side lucky that Santi Cazorla didn't score in the 69th minute to put Dortmund in some serious trouble.
Die Welt claimed that Arsene Wenger was outsmarted, insisting that Dortmund should take such an achievement as a compliment considering the manager's vast experience in the game.
"Klopp now has a team that's even harder to read and predict, even for an experienced coach like Arsene Wenger," Oliver Muller wrote. "This is perhaps the biggest plus of the evening."
Local Dortmund paper Ruhr Nachrichten was particularly harsh on the Dortmund players in their ratings, giving Robert Lewandowski just two out of five in the ratings even though he scored the winner.
"Important even after the break, often on the wings, thus he lacked long punch in front of goal," they claimed. "Then he stood where a striker should be."
A rather harsh assessment but perhaps it just shows the heights he has reached in recent seasons.