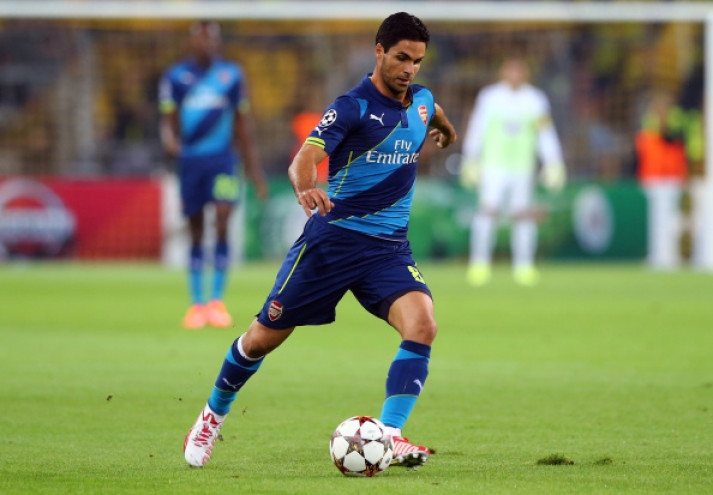 Arsenal captain Mikel Arteta has urged manager Arsene Wenger to keep using the 4-4-2 formation with two defensive midfielders rather than just one to give more freedom to the attackers.
Wenger has normally used just one holder this season, either Mathieu Flamini or Arteta, with an offensive midfielder like Jack Wilshere or Aaron Ramsey to pair them.
However, after conceding 11 goals in the first eight Premier League games, the manager bolstered the midfield with an extra player during the 2-0 victory over Sunderland on Saturday 25 October - with Flamini playing alongside Arteta in front of the centre-backs.
Arsenal had one of their most consistent performances of the season while also securing a clean sheet and Alexis Sanchez excelled in the number 10 role, scoring a brace to lead his side to the victory.
"I felt really comfortable with [Flamini]. Last year we played some important games together and I think we understand each other well," Arteta said, according to Arsenal's official website.
"We wanted to give a bit more freedom to Alexis, playing a bit behind Danny [Welbeck], more like a 4-4-2, which we haven't played for a while. It worked - I think Alexis did very well today so we're happy for him."
The captain has been the latest player to hailed the Chilean international, praising both his talent and his hard-working attitude.
"His confidence is high. Physically he's better, you can see that by the runs he was making in the 93rd minute, [when he] chased the keeper and kept going. That's all about him - he wants to keep going, he wants to improve and he's doing very well," Arteta said.
After a difficult start to the campaign, Arsenal have secure two back-to-back victories, with the Champions League game against Anderlecht and the Sunderland match in the Premier League.
With the Gunners ready to host Burnley on Saturday 1 November, Arteta hopes the good run will continue.
He said: "We need to be consistent now and get the points because you know how difficult it is. You look at Manchester City dropping points, you look at Liverpool dropping points and that tells you how difficult this league has become."