Robin van Persie is not just needed at Arsenal for his goal-scoring abilities, according to Alex Oxlade-Chamberlain, insisting the skipper provides a great deal of support off the pitch as well as on it.
Chamberlain burst onto the scene at the Emirates last season, after moving from then League One side Southampton, and as a result of his top class performances for the Gunners, the 18 year old has been selected for the Euro 2012 England squad.
And as he prepares for the trip to Poland and the Ukraine, Chamberlain has insisted that keeping van Persie is important for the rest of the Arsenal squad as well as for winning games.
"It's clear how important he has been for us with the goals he's scored, he is one of the best strikers in the world," he told the Sun.
"He's a massive part of the dressing room, helping all of us and speaking to the manager about what we're feeling, what we want and what we can do better.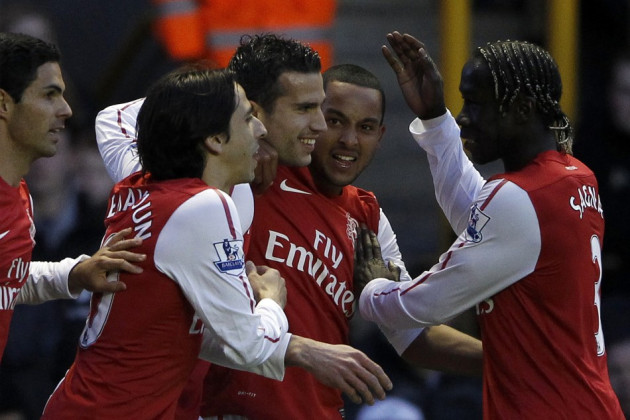 "He even does the little things like arranging get-togethers with players' wives and barbecues and fun days and golf days."
Chamberlain has had limited game time this season, with Arsene Wenger remaining cautious over the teen's physical state.
And while he has clearly been frustrated with a lack of playing time at certain points during the season, the former Southampton star says van Persie's advice has shown him to be patient and he will receive the just rewards.
"He told me that when he first came to Arsenal it was quite similar to me how the boss dipped him in and dipped him out," he explained.
"He would score a goal then wouldn't play the next game or he might score two and he wouldn't get on in the next game or would play five minutes.
"He told me to keep working hard and bide my time and keep plugging away and my time will come.
"Before games he tells me to do this or that or go here on a corner. He's a big leader.
"It will be good if he stays, definitely. I don't know if he will but I hope he does."
Van Persie is currently in contract talks with Arsenal, but is believed to be fielding interest from numerous clubs should he decide not to sign a new deal.
After the club suffered at the hands of losing Cesc Fabregas and Samir Nasri last summer, and were forced into making five last minute buys as deadline day hit, Wenger will be keen to have an answer from van Persie as early as possible this time around.