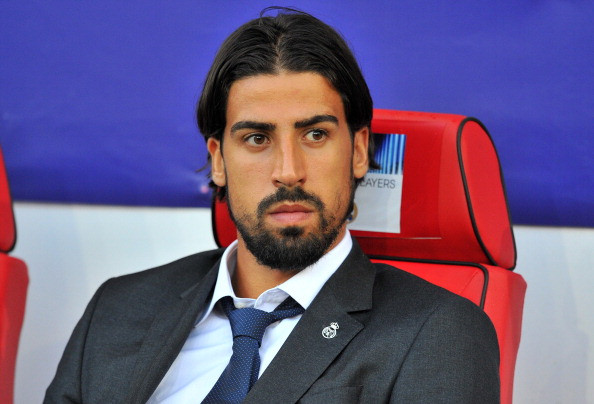 Sami Khedira looks to be finished at Real Madrid.
Manager Carlos Ancelotti left the German midfielder out of the first-leg final of the Spanish Super Cup against Atletico Madrid on Tuesday, as well as last week's European Super Cup.
Even though the international had an excellent World Cup, this summer has seen reports that Los Blancos are likely to part company with him, as his contract is due to expire next summer and this is their last chance to make a profit on him.
According to the reports, Real Madrid president Florentino Pérez has not forgiven Khedira for refusing to renew his contract last October, and told the his agent to find him a new club as the World Cup ended.
Los Blancos have already signed Toni Kroos to replace Khedira, and, according to the reports, put Khedira on the market for £12m ($20m, €15m).
As manager Carlo Ancelotti has midfielders Xabi Alonso, Luka Modrić and Asier Illarramendi, and he kept Khedira off Real Madrid's bench during the last two official games, it seems like the club is pushing Khedira out of Santiago Bernabéu's doors.
London calling for Khedira
Both Chelsea and Arsenal have recently being linked with Khedira, with the Mirror reporting that his agent was set to hold talks with the London clubs this week.
Even though Jose Mourinho has said he is not expecting further additions, and Arsene Wenger claimed he is not interested in the Real Madrid star, reports claim that both managers are keen to secure the German international, seeing £12m for a high-profile midfielder as a bargain.
Nevertheless, the Premier League giants may have to fight with Bayern Munich for his services. The German giants are on the market for a midfielder, after Javier Martinez suffered a long-term knee injury.
Munich's honorary president, Franz Beckenbauer, has admitted that the German would be a perfect signing for them.
"Khedira would function well in any team. At Bayern Munich he would function well," Beckenbauer said.
"He's extremely good in the number six position and he could play alongside [Bastian] Schweinsteiger or [Philipp] Lahm. That would be perfect."