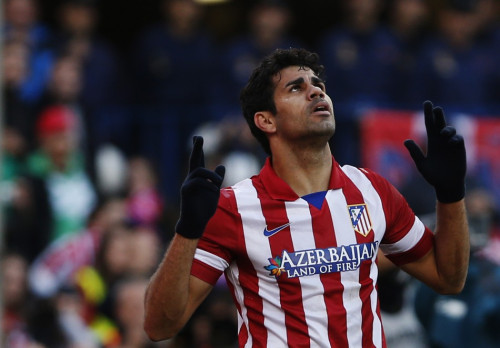 Arsenal's and Chelsea's hopes of landing La Liga star Diego Costa have suffered a setback after Atletico Madrid technical director Andrea Berta revealed that they are set to keep the Brazilian for a further season.
Costa has scored 19 goals in 19 La Liga games this campaign and he has been the instrumental player in Atletico's incredible first half of the season, which sees them on course to break Real Madrid and Barcelona's stranglehold on the league.
The 25-year-old turned down a Liverpool offer last summer and signed a new contract until 2018 with Diego Simeone's side, but speculation about his future continues.
Asking if Atletico will negotiate Costa's sale to the Premier League giants, Berta opened the door for the future - but ruled out any sale either January or this summer.
"Atletico is a club that must sell players every year, but we think that we can keep our best players at least another year," Berta said on Italian radio station Tele Radio Stereo.
However, Atletico have been forced to sell other stars in the past, such as Sergio Aguero and Radamel Falcao, due to financial issues, and Berta's quotes suggest Costa's £31m release clause will be sold sooner rather than later.
Reports claimed recently that Jose Mourinho has earmarked the Atletico star as his major summer signing, while Arsenal are also keen on his signing as Arsene Wenger is desperately looking to add a striker to the squad.
Indeed, the Arsenal boss has expressed his admiration for Costa several times, saying recently: "He... already grabbed my attention last year through his determination, his strength to move forward. He also possesses technical quality and a cool head when carrying out his finishing touches.
"There is something animal in his determination, in his hunger. You can feel that he is a player who, before arriving at a very high level, has fed his thirst and his hunger."
Liverpool were also linked with Costa last summer but with Daniel Sturridge and Luis Suarez impressing this season the Reds look out of the race to sign the player.