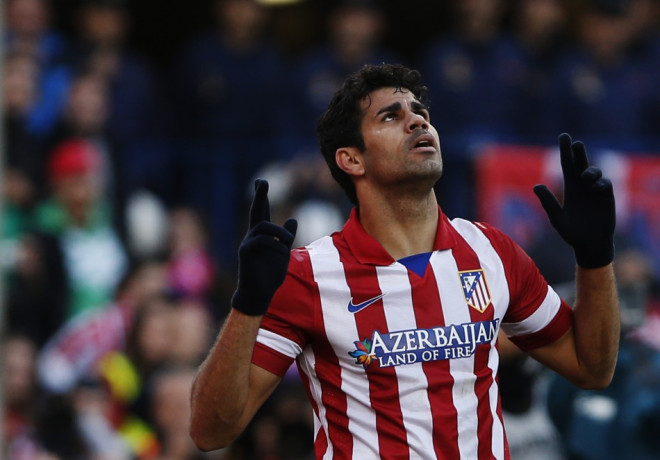 Atletico Madrid president Enrique Cerezo has dealt a blow to Chelsea and Arsenal by insisting he does not believe striker Diego Costa wants to leave the club this summer.
Costa, who was the subject of a bid from Liverpool last year, has been linked with a possible swap deal with Chelsea, who could offer current Atletico star Thibaut Courtois or legend Fernando Torres.
Arsenal boss Arsene Wenger is also interested in bringing the Brazilian-born striker to London.
The 25-year-old, who is hoping to feature for Spain at this summer's World Cup, has had an excellent campaign for Los Rojiblancos, with 21 goals - just one off Cristiano Ronaldo.
Cerezo was asked in an interview about the reported interest from several European teams in Diego Costa and he said: "I do not believe Diego Costa is leaving Atletico next season.
"Undoubtedly we don't want to use any player as a bargaining chip for some other player. You can see this in that we never sell but other teams come for our players."
Cerezo also discussed Costa's decision to play for the Spain, renouncing his Brazilian nationality. He said: "He will have a big role with Spain.
"Diego wants to play with the Spanish national team and that has been an important decision.
"He likes Spain, lives it here and believes it is better for him."
The Atletico Madrid chief was also asked about the latest defeat, a 3-0 loss at Osasuna, and he said: "I think all teams, including Real Madrid and Barcelona, have a bump at some stage.
"I am sure we are going to [finish the season] well because we have a good squad.
"In football there are teams that stand out above others. We fight against Real Madrid and Barcelona and we will do it in a clean and honest way."