Arsenal playmaker Mesut Ozil has been urged to reject a new contract and join Paris Saint-Germain. The 28-year-old is yet to agree an extension to his current deal which expires in the summer of 2018, and fears are growing over his future at The Emirates Stadium.
The Sun understand that Ozil and fellow contract-rebel Alexis Sanchez are demanding wages of £290,000-a-week – similar to that of Manchester United's world record signing Paul Pogba. While Sanchez has remained relatively quiet over his Gunners future, Ozil will stay in north London if Arsene Wenger remains beyond the end of his contract.
With both players approaching the final 12 months of their contracts, Arsenal are entering a period which represents their last chance to recoup a decent fee for the players. And if the club do decide to cash in on Ozil, then Germany international Julian Draxler wants his international compatriot to join him in the French capital.
"There is one fellow Germany international I would like to see here; Mesut Ozil," he told Bein Sports, after moving to the Parc des Princes last month. "I do not know why there have been so few (Germans leave the Bundesliga). It remains very attractive to Germans. I chose to come here to have an experience abroad. Would I advise other Germans to come to Ligue 1? Without a doubt, yes I would."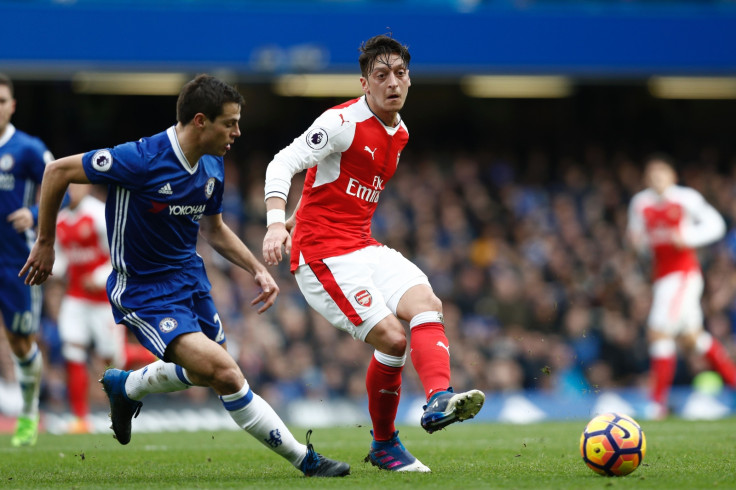 Though Ozil's exit from Arsenal would be a major blow to the club, feelings towards the former Real Madrid man has become increasingly hostile this term following a string of insipid displays in the club's biggest games. The latest lacklustre performance came in the 3-1 Premier League defeat to Chelsea which was the catalyst for swathes of criticism from supporters on social media.
Ozil came in for particular criticism from the Premier League's all-time leading scorer Alan Shearer for his work rate during one incident when Chelsea's Nemanja Matic made a foray into the Arsenal half. "This is embarrassing. Sanchez and Ozil, Matic just goes straight through," he said on Match of the Day, according to The Sun. "No pressure on the ball whatsoever. One simple pass and Chelsea are on the attack again. It was an embarrassing performance from Arsenal."