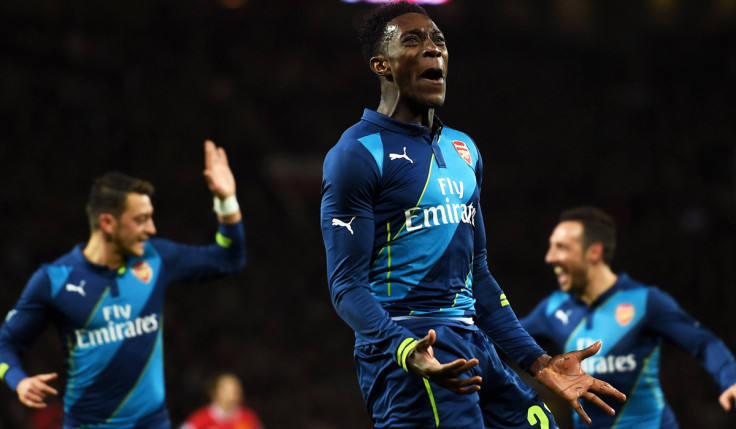 Arsenal striker Danny Welbeck has opened up regarding his celebration after scoring the winner against former club Manchester United during the Gunners' 2-1 win in the quarter final of the FA Cup.
The England international moved to Emirates Stadium last summer after spending his entire career at Old Trafford and has gone on to become an integral part of the Arsenal squad this season.
Despite struggling on the goals front for his new club, the striker has put in some impressive performances, especially in the game against the Red Devils.
The 24-year-old striker, who was speaking to former Arsenal defender Martin Keown, revealed that it was weird at first to return to his former club, but insists that his focus was on the game and not the occasion.
"It was a weird occasion for me going to back to Old Trafford on the away side. The weirdest thing was warming up on the other side of the pitch. It just felt a bit weird. But you have to treat it like it's any other game and play the game, not the occasion," Welbeck said, as quoted by the Daily Mail.
"Obviously I was going back to a club that brought me up and going back to the fans that supported me for years, playing against old team-mates, my old friends, it was a weird occasion."
There was equal criticism and appreciation following Welbeck's celebration after he scored the winner to knock out United from the cup, but the striker insists that it was just a decision he made at the spur of the moment.
He made it clear that he had no plans ahead of the game with regards to celebrating as he was only focused on helping the north London club win and make it to Wembley for the second successive season.
"But I scored the goal, a big goal to get us through to the semi-final. So it was a spur of the moment to celebrate.
"Leading up to the game I had no plans whatsoever. I just wanted to play the game, get it over and done with and get through to Wembley and get to the semi-final. That's what happened.
"I scored the goal and whatever I did I would have been criticised – criticised if I celebrated or criticised if I didn't. It was just spur of the moment," the Three Lions striker explained.
The Arsenal forward also confirmed that Louis van Gaal's comments ahead of the game were not the reason for his celebration.
"I didn't see the comments. Going into every game I want to be motivated. Playing against Manchester United – I did it earlier in the season at the Emirates – and then it was a bit different this time going back to Old Trafford," Welbeck concluded.