Arsenal refusing to rule out league and cup double says Aaron Ramsey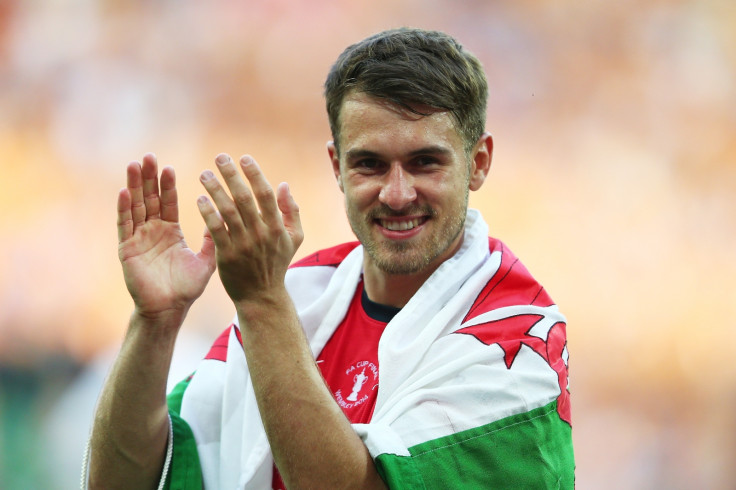 Arsenal midfielder Aaron Ramsey has sent a warning to Chelsea by claiming the club are refusing to rule out securing a Premier League-FA Cup double before the end of the season.
Sixteen wins in the Gunners' last 18 matches has seen them close the gap between themselves and league leaders Chelsea to seven points and guided the club into the last four of the FA Cup, where they face Reading for a place in a second final in as many years.
But despite the significant hurdles facing Arsenal between now and the end of the campaign, Ramsey says the squad are still hopeful of adding silverware to a campaign of dramatic improvement.
"[The double] is still a possibility," said the 24-year-old, Arsenal's match-winner in the 2014 final against Hull City. "Every game in the league we just want to win our remaining games. We're on a fantastic winning run at the moment.
"Chelsea [who face Manchester United on 18 April] have still got a lot of points so they will have to slip up a few times for us to catch them. It will be difficult but it is possible.
"You can't rule it out yet because it is still possible even though it is going to be difficult. We've just go to win our remaining games and see where that takes us.
The Wales international commented on whether Arsenal have proved with their recent run that they are title challengers. He said: "I think so. Even last season we started off really well and maybe just faded away at the end of the second half of the season.
"We lost against the bigger teams but this season we have done a bit better against the bigger teams and we didn't start too greatly and it was a bit interrupted but as the season we have been really good and consistent in our performances and I feel like we're very close.
"We're a bit more settled than we were in the beginning of the season. We had a lot of injuries and there was chopping and changing and maybe that unsettled us a bit.
"Since the turn of the year we have been really consistent and really good and we've kept the majority of our players fit and other players are coming back into it and we're pushing ourselves in every game. We want more so hopefully we can continue this run that we're on."
Injury woes have held Ramsey back
Ramsey has suffered three separate hamstring injuries this season that has restricted him to just 18 league appearances and, despite the recurring problem, the ex-Cardiff City midfielder is no closer to discovering the root of the problem.
Hamstring blows have occurred in the months of October, December and February but a run of seven games, which has included three goals, sees Ramsey return to Wembley fully fit and psychologically untroubled by what has gone before.
"This season I've had a lot of injuries, again," he bemoaned. "When I do come back from the injuries it takes me a few games to get going and then I seem to get back into a bit and then I break down again.
"It's been a bit of stop-start season for me but I am feeling confident and even though with all the injuries I've had, I've still got nine goals this season and a few assists and hopefully I can finish the season strongly and have an impact and hopefully we can win the FA Cup again.
"Even between the injuries I don't think it does when I did get them as soon as you feel good to go it's gone and nothing is in your mind. Unfortunately in my case they seem to have gone a few times this year.
"These things seem to happen to us more than anything other club. Hopefully we can stop this happening with me and the other players and at the moment we seem to be doing that. We have a big squad available now.
"I think I was guilty of [pushing myself too much] last season when I had my injuries and trying to come back too quickly and that is why I was out for the period I was in the end for trying to come back a bit too early and they end up going again.
"This time I don't think I've come back too early from my injuries because I've played a couple of games and they've gone again. I don't know if they were able to take the load that I was trucking up in the games so that might be one of the issues why they did go."
© Copyright IBTimes 2023. All rights reserved.